Neutrik UK Appoints XIRIUM PRO Reseller Network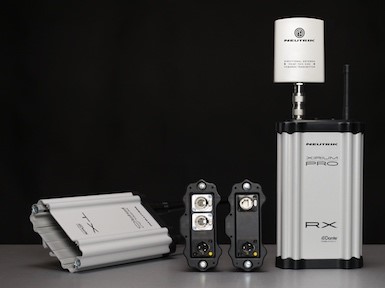 RYDE, U.K. – Neutrik announced the expansion of its regional resellers across England for its XIRIUM PRO digital wireless audio link system.
More details from Neutrik UK (www.neutrik.co.uk):
Neutrik UK has announced the appointment of a network of official regional resellers across Great Britain for its XIRIUM PRO digital wireless audio link system. The network of skilled and highly experienced resellers extends high-level sales, service and in-the-field expert support across the country, for both UK and visiting overseas XIRIUM PRO users.
NEUTRIK XIRIUM PRO is a dedicated 'studio quality' digital wireless audio link; a cable replacement system that sets a new professional standard in transmission of robust, low latency, high-resolution digital audio signals over long distances. Based on proprietary DiWA (Digital Wireless Audio) technology, XIRIUM PRO transmits totally uncompressed 24bit / 48kHz audio, in the license-free 5 GHz band.
Providing a rapid and easy means of full bandwidth audio connectivity for events, visitor attractions and indoor and outdoor venues, of the most demanding scale and complexity, the system is ideal for use in situations where it is overly time-consuming or operationally impractical to run audio cables.
The reseller network comprises Everything Audio in southern England, Studiocare Professional Audio in northern England and the Midlands, and The Warehouse Sound Services in Scotland.  All three companies express belief in XIRIUM PRO as offering a unique and completely reliable wireless transmission solution for digital audio.
Roger Patel, MD at Everything Audio: "Everything Audio has a proven track record in introducing ground breaking equipment onto the UK market. Operating principally in the location sound business with a sales and operations centre at Elstree Film Studios, we have recently added a rental division. As a company with considerable experience in UHF wireless microphone systems, XIRIUM PRO strengthens our offering for the location sound market and presents new opportunities to extend our reach into live sound and event production. The build quality and extended range audio link that XIRIUM PRO offers, allows us to offer new solutions for both markets."
Chris Kelly, Senior Service Engineer at Studiocare Professional Audio, based in Liverpool, says, "As a pro-audio sales, hire and service company, we supply to the professional audio, events and entertainment industries, with clients including the BBC, Bauer and Global radio in the broadcast sector. We have XIRIUM PRO systems available for hire and these can also support a larger order of hire equipment for major outdoor events. We are also incorporating XIRIUM PRO when engineering corporate conferencing events. We also offer the system for sale and have three trained service engineers able to offer excellent pre and post sales advice and support. A robust and reliable wireless audio system like XIRIUM PRO has the potential to become a big player in the touring and events industry. Until now there just hasn't been anything out there that you could rely on."
Janet Murray, director at The Warehouse Sound Services: "The Warehouse Sound Services is Scotland's leading pro-audio provider, operating extensively in the live event market; across music, theatre, sport, corporate events and broadcast. We strive to be at the forefront of cutting edge pro-audio technology, in both sales and rental, where optimum sound performance is critical to everything we do. XIRIUM PRO is at the cutting edge of audio transmission for a vast array of applications, making it the perfect product for working in a wide range of challenging environments. It transmits studio quality audio over distance, even in the most densely populated RF surroundings, and is able to interface with analogue, digital or Dante audio signals. As RF specialists, XIRIUM PRO enhances our offering and enables us to engage in an even wider range of projects."
Commenting for Neutrik UK, Head of Sales & Marketing Andy Croucher states, "We are supplying an ever increasing number of systems for use in a diverse range of applications, including art installations, national and local events, and major visitor attractions. As the user base expands across the UK and throughout Europe, it necessary to have a suitably expert and experienced network of resellers who can support both UK based users and visiting production teams from abroad. In these three companies we clearly have that skill base and experience."
Over the last two years XIRIUM PRO has been used with increasing frequency by hire companies and sound designers throughout Europe, across a range of events and applications, ranging in scale and complexity. Among the largest of these was last year's 'Kölner Lichter' (Cologne Fireworks), where Sound Bros GmbH deployed XIRIUM PRO to feed a total of seven PA delay towers on either bank of the river Rhine. At the other end of the scale, ZISYS Events supplied a system to feed audio to an "audio artwork" by Susan Philipsz in the Scottish
National Gallery of Modern Art in Edinburgh from an adjacent building.
NEUTRIK's proprietary DiWA protocol transmits a 1.15 MHz data stream, something that can only be achieved in the UHF bandwidth with the use of signal companding. Modular construction enables that corresponding TX and RX XIRIUM PRO base stations to be equipped with modules to enable transmission of digital, audio Dante®, or analogue signal streams via the system. Up to 6-channels of audio can be transmitted to an unlimited number of receivers, up to a usable distance of 500 m; line-of-sight and point-to-multiple point. Greater distances can be achieved, as required, with the use of the system's repeater units.
Leave a Comment: