64 Audio Promotes Stewart Millager to Chief Operating Officer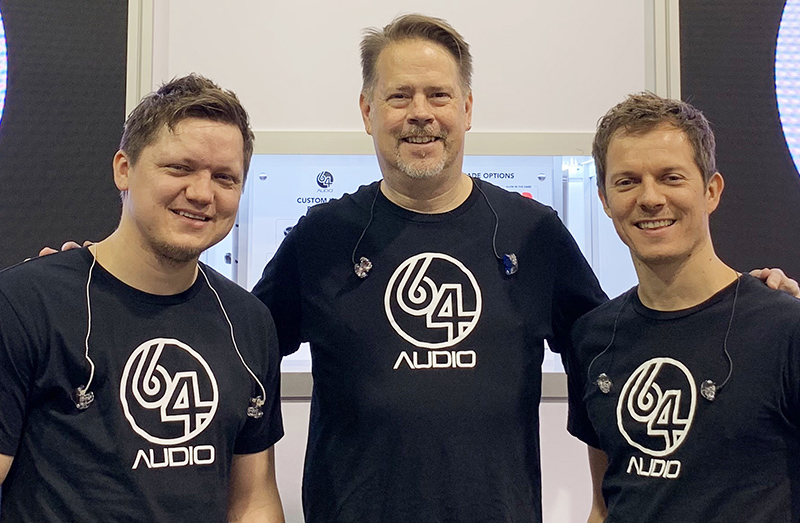 VANCOUVER, WA – 64 Audio promoted Stewart Millager, who has been with the company since 2017, to COO. Millager most recently served as head of R&D. Pictured here, from left, are 64 Audio CEO Vlad Belonozhko, Millager and 64 Audio founder and chief sound designer Vitaliy Belonozhko at 64 Audio's winter NAMM 2019 booth in Anaheim, CA.
More details from 64 Audio (www.64audio.com)
64 Audio, the leader in custom and universal fit in-ear monitors (IEM), is proud to announce the promotion of Stewart Millager to Chief Operating Officer. Millager has been with 64 Audio since 2017, most recently leading the R&D team.
"Stewart is a results-driven professional with an impressive resume in the consumer and Pro A/V markets, and he has proven himself quickly in his relatively short time here at 64 Audio," said Vitaliy Belonozhko, 64 Audio founder and chief sound designer. "As 64 Audio continues to grow, having the right person in the COO position is vital, and Stewart is the ideal choice as his knowledge, work ethic, and values are keys to this position's success."
Millager has held management titles in the engineering and product development departments throughout his two decades in the consumer and Pro AV industries.
"64 Audio has become a leader in the custom and universal fit in-ear monitor market in less than 10 years, and that is for a reason," said Millager. "Being a musician myself, I see the passion that 64 Audio has for music creation, and the exceptional support the organization gives to its customers. The 64 Audio name is synonymous with innovation and quality worldwide. I am excited to take on this new challenge in helping to further the awareness of our brand and to build on our success for future growth."
From studio to stage to sophisticated home audio environments, 64 Audio has created the industry's most innovative universal and custom-built in-ear monitors available to date. Founded by Vitaliy Belonozhko in 2010, a sound engineer who has been working with musicians and production companies for more than a decade, he discovered the advantages of IEMs over traditional floor "wedges" and recognized that a better solution to in-ear monitoring was needed. Today, 64 Audio supplies products worldwide to some of the best-known musicians, singers, and engineers in the world, as well as discerning audiophiles who demand nothing but the best sound reproduction from their systems. With new and unrivaled technologies such as apex, LID, tia and 3D-Fit, 64 Audio excels in challenging traditional earphone designs to bring to market unique and innovative audio products.
Leave a Comment: