Wolf Trap's Filene Center Enhances Its Audio for the 2007 Summer Season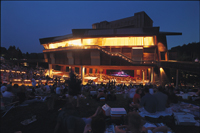 VIENNA, VA — The Wolf Trap Foundation's Filene Center enhanced its digital audio control capabilities for the 2007 summer season with the installation of three Dolby Lake Processors to manage main front of house left and right, and the lawn and center cluster speakers. In addition, four Dolby Lake Processors have been installed to optimize all 16 monitor feeds, including the mixer's cue.
"I love the ease with which I can apply whatever speaker tuning I wish to any one of my mixes," said John Burke, Monitor Engineer, Filene Center. "The Mesa EQ filter is a fantastic tool, but it is the pen tablet and software that really helps me the most. The interaction between the drawing of a filter and the change in audio is fantastic. I have used many of the popular DSP-based speaker controllers and their associated software, and this is a whole different level of interface."
Greg Lukens of Washington Professional Systems supplied the seven new Dolby Lake Processors, which are being used to process onstage Meyer Sound and EV monitors as well as the multizoned L-Acoustics house system that is under sophisticated wireless network control. The Filene Center is a 7,000-seat performing arts amphitheater located in the Wolf Trap National Park for the Performing Arts, and serves the Washington, DC metropolitan area. The venue hosts approximately 90 music concerts during the summer months, which this year include artists from the Average White Band to The Zombies.
ACTION ITEMS:
For further information, please visit www.dolby.com/livesound.
Leave a Comment: