UNICEF Parties For Charity At The Hague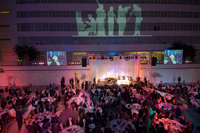 THE HAGUE, NETHERLANDS–At the star-studded UNICEF gala in The Hague on March 25, AVEQ Rental & Sales supplied the equipment and expertise for the entire production using systems from Electro-Voice. Celebrities from the cultural, sporting and political worlds thronged the atrium of the town hall to have a good time and donate money to a worthy cause. UNICEF made a net profit of 143,500 euros — money that will be used for charitable purposes. To heighten the mood of generosity among the guests, the UNICEF team had organized a high-caliber live program that included not only local and national acts such as Jim, Told U So and Frank In Person (F.I.P.), but also the legendary disco group of the '80s, Sister Sledge, who made sure the dance floor was packed and stayed that way. Their much-appreciated set included powerful and dynamic renderings of all their classic hits such as "We Are Family", "He's the Greatest Dancer" and "Lost in Music".
The Dutch sound company AVEQ Rental & Sales was responsible for the production. The team led by sound engineers Rutger Klein Kranenbarg (FOH) and Dimitri Van Dijck (Monitor) used a Electro-Voice sound system for both the gala and the after-show party.
For more info, visit: www.electrovoice.com.
Leave a Comment: