Turbosound Flex Array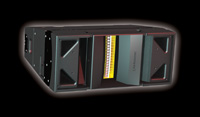 Turbosound has introduced the Flex Array, a medium–scale professional sound reinforcement system that combines elements of Turbosound's patented point-source system with well-proven line array technology, resulting in a versatile, one-box-fits-all loudspeaker product suitable for a variety of venue types. By simply changing the orientation of the cabinet, one enclosure type is capable of being used in either line-array or point-source configurations. The ability to rotate the mid/high waveguide within the enclosure gives additional flexibility of use from only one type of box.
The Flex Array system has been designed from the ground up, resulting from a three-year development cycle closely related to the development of the Polyhorn, and uses Turbosound's patent-pending Dendritic horn, which produces a line source element with directional qualities together with clarity and definition. All neodymium drive units are designed to ensure that weight is kept to a minimum for easy trucking and handling.
Flex Array is fully arrayable with flywear integrated into the box for quick setup with no external parts, or can be used with external yokes and brackets for semi-permanent and fixed installations. The bandpass low frequency cabinet uses a high power neodymium 18-inch drive unit and can either be flown with mid/highs or ground stacked. Digitally self-powered versions with integrated lightweight Class D amplifier modules are also available, making Flex Array products ideal for the corporate market as well as for live sound applications.
For information, please visit www.turbosound.com
Leave a Comment: