Renkus-Heinz Debuts RHAON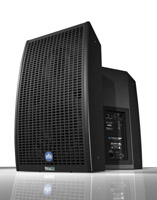 The Renkus-Heinz Audio Operations Network has made its public début as a full production product at PLASA 2007, in the shape of the Sygma SG Series loudspeakers. RHAON from Renkus-Heinz opens a new era in networked, powered loudspeakers with a combination of integral amplification, DSP, digital audio networking, control and monitoring, which is available for the entire Renkus-Heinz powered product lineup.
Under the headline Maximum Control, RHAON technology will become a standard option in every new Renkus-Heinz powered loudspeaker, beginning with the Sygma SG Series.
Also now shipping is the RHAON-Empowered CF Series, which brings RHAON and the CF Series' technologies to a broad market across the fixed installation, portable live music and A/V marketplaces.
During the course of 2007, all current Renkus-Heinz powered loudspeakers will be RHAON enabled, providing designers and integrators with the broadest pallet of powered loudspeaker tools available from any manufacturer.
RHAON gives audio professionals maximum control over all aspects of loudspeaker setup and digital audio distribution, control and monitoring, using standard Ethernet hardware.
It provides internal loudspeaker-specific DSP, up to 64 channels of digital audio distribution, and user control and monitoring of all vital aspects of the loudspeaker via standard Ethernet hardware — all over a single CAT-5 cable.
And for complete flexibility for the integrator or rental company, both RHAON RJ45 / Ethernet-based digital and analog audio connectivity are provided on each loudspeaker as standard. The RHAON system is designed to give integrators control over all aspects of the loudspeaker, empowering them to simplify design while maintaining high levels of fidelity and system-wide reliability.
ACTION ITEM:
For information, please visit www.renkus-heinz.com.
Leave a Comment: