Product Hits of the 2019 NAMM Show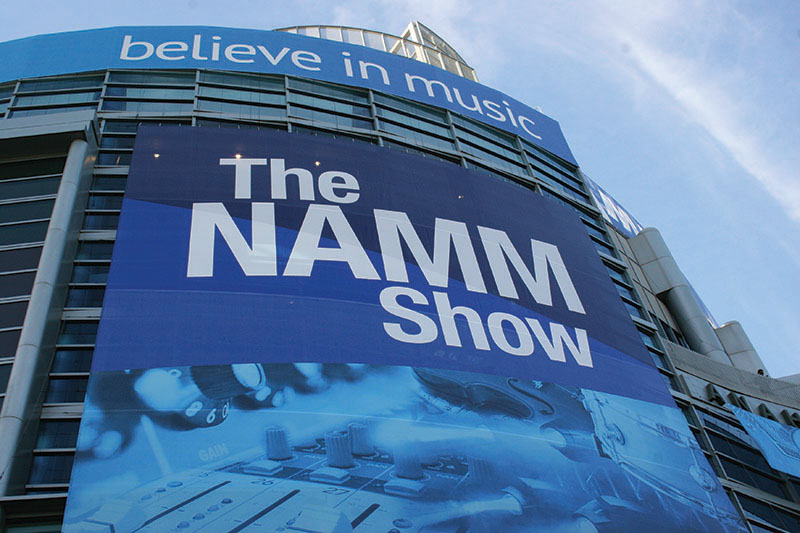 From January 24 to 27, 2019, while much of the country was battered by winter storms, some 115,301 registered M.I., music products, pro audio and event technology professionals braved shirtsleeve weather that occasionally dipped into the mid-70s to attend the 2019 NAMM Show in Anaheim, CA. Besides 2,000 exhibiting member companies showing the latest products on the expo floors (including the expanded North Hall with two floors dedicated to pro audio), the event featured more than 400 educational sessions as well as "AES at NAMM" technology sessions, the Parnelli Awards, the NAMM TEC Awards and ample times to network and socialize.
But for most of us, the real action was on the show floors, where then was plenty of new technology action to see — and hear. Unlike past shows, few new consoles were found, although there was plenty of action in the realm of software and firmware tweaks that expand the power of existing models. All of this bodes well for end users, who are offered a cushion of "future proofing," where their current desks can be brought to the latest spec via a simple update. Product development tends to run in cycles and this year, the focus seemed to be on new sound reinforcement loudspeaker designs. Here are a few new innovations that caught our attention.
SPEAKERS: It's a Loud World, After All
 NAMM has turned into a major showcase for new live speaker designs. While AES@NAMM was presenting ongoing programs such as the popular "Line Array Loudspeaker System Academy," the Anaheim Convention Center's Arena, demo rooms within the North Hall and various outdoor stages offered opportunities to hear systems firsthand. Here are just a few of the new systems we encountered.
Adamson Systems Engineering (www.adamsonsystems.com) began the year with a bang. Company founder Brock Adamson was granted the Parnelli Awards' highest honor, named as Audio Innovator of 2019. But not willing to rest, the company debuted its CS7p intelligent point source enclosure, the world's first family of mobile loudspeakers to feature onboard Class-D amplification, DSP, and Milan-ready (AVB) network endpoints. In addition to AVB and analog I/O, the CS7p has two 7" Kevlar neodymium woofers and a 3-in. compression driver on a rotatable 70 x 40 (H x V) waveguide.
Avante (www.avanteaudio.com) expanded its Achromic Series with the introduction of the AS8 800W powered portable column P.A. system that combines an active 8-inch neodymium subwoofer alongside two column units. One is loaded with six 2.75" neodymium drivers while the other serves as a spacer to lift the speaker column up to optimal height. Both feature Avante's SAM (Secure Array Mount) system, allowing the columns to lock securely to the sub and to one another and passes the audio signal from the sub up to the columns, removing the need for speaker cables
BassBOSS (www.bassboss.com) launched MFLA, a powered, dual-12" and dual 1.4"-exit line array system featuring 3,000 watts of onboard amplification, comprehensive DSPand wide 120° horizontal dispersion. Rigging hardware features a simultaneous compression/tension mechanism, so cabinets can be flown or ground stacked using the same simple setup and no slack and shifting in the box alignment once the boxes are pinned.
Bose Professional's (www.professional.bose.com) Bose Array Tool software is designed to simplify sound system design for AV pros, bringing variables — room size, budget constraints, loudspeaker model and placement — under control. System designers can quickly try out different loudspeaker models, placements and formations to match a venue's needs. Version 1.0 supports designing with the Panaray MSA12X. Future versions will support more Bose Pro speaker models. Bose also showed acoustically-transparent slip-covers for its S1 Pro speakers, allowing these portable P.A. systems to blend with any décor.
Celestion (www.celestion.com) debuted its Axi2050 Axiperiodic Driver, a high-output MF/HF driver that offers ultra wideband (300 Hz to 20k Hz) that can eliminate the need for a midband crossover. The result of five years research, it's a single, large-diameter, sculpted, annular diaphragm consisting of many curved, axiperiodically symmetrical elements that adds immense strength to a very thin and light sheet of titanium. Specs include a 2" exit throat, standard mounting and 150W RMS power handling for 140 dB max SPLs.
d&b audiotechnik (www.dbaudio.com) followed up its popular flagship GSL cardioid line arrays with the smaller sibling KSL Series — the "K" stands for "kleiner," the German word for small. The KSL houses two 12" forward-facing neodynium woofers, two 8" side-firing drivers and a coaxial 8" cone mid driver with two 1.4" exit HF drivers on a wave-shaping device. Intended for larger club shows up through arena and stadium events, the new KSL models include the KSL 8 (80° horizontal dispersion) and KSL 12 (120°) line arrays and the KSLSUB. All share features of the SL lineage, including cardioid directivity, while sharing a common sonic character for easy integration with larger GSL systems.
DAS Audio's (www.dasaudio.com) ACTION-500 series consists of eight active and eight passive speakers — a 12" monitor, full-range systems consisting of 8", 12", 15" and 2 x 15" and three subwoofers. The series renovation of the series upgrades both design and physical features. All full-range systems in the ACTION series — including the ACTION-508/512/515 and 525 — have new, rotatable horns for improved frequency response while offering wider 90 x 60 dispersion. Active systems incorporate a 2-channel mixer and DSP presets for system optimization. Shipping begins Q2 2019.
dBTechnologies (www.dbtechnologies.com) is now shipping the flagship in its VIO series, the L212 three-way active line array module featuring twin neodymium 12" woofers. Mids and highs are handled by four 6.5" neodymium cone drivers and two 1.4" exit HF drivers on a long-throw waveguide. Each VIO L212 is driven by two Digipro G4 1,600W RMS Class-D amps and the pre-amplifier is equipped with a modular slot for expansion cards for RD-Net or Dante networking.
eAcoustics (www.eacoustics.com) came on strong with a full line of made-in-USA speakers including the Raven, a column array featuring two 12" B&C woofers and nine Faital Pro HF drivers providing up to 137 dB max SPL. Powersoft amplification provides 1,500 watts to the LF section and 750W to the HF section with integral DSP and Armonia USB control. Slated to debut later this year (sometime around the second quarter of 2019) is Dragon, a large-format dual-12 woofer line array to be offered in powered and unpowered versions.
ISP Technologies' (www.isptechnologies.com) GLA2806 is a 2-way line array design in an all-in-one-box system with eight 6.5" neo woofers and six 1.75" neo HF compression drivers, offering 48° x 100° (VxH) dispersion, smooth summation and mid-range clarity. The GLA2806's powered bi-amplified design employs ISP Technologies patented DAA Dynamic Adaptive Amplifier technology for Class-D style efficiency but with Class A/B sonic performance.
JBL Professional (www.jblpro.com) celebrated the success of its VTX line array systems, with a TEC Award win for its VTX A12 line array, the announcement of a multi-million dollar order for its VTX A12 and A8 systems to Clearwing Productions and a NAMM TECnology Hall of Fame honor for the original VerTec VT4889 system, which started it all back in 2000.
L-Acoustics (www.l-acoustics.com) continued to promote L-ISA, its immersive audio solution, with ongoing demos during the show while taking the coveted audio Indispensible Technology honor at the 2019 Parnelli Awards. Congrats!
Mackie (www.mackie.com) kicked off its 30th anniversary by announcing the shipping of its new flagship DRM professional powered loudspeakers, offering up 2,300W of power with onboard FIR DSP, color displays, and designed for rental and install applications. Available are the 1,600W 12″ DRM212; 1,600W 15″ DRM215; 2,300W 15″ 3-way DRM315; 2,000W 12″ DRM12A array; and 2,000W 18″ DRM18S subwoofer — plus all models will be available in passive boxes.
Martin Audio (www.martin-audio.com) announced the Wavefront Precision Longbow (WPL), a new optimized line array that takes a scalable approach to external amplification. The new WPL is an all-horn loaded, dual-12 design with two 6.5" cone MF drivers and three 1" exit HF compression drivers for 90° horizontal dispersion. Applications include large-scale touring and installations.
Meyer Sound's (www.meyersound.com) new M-Noise test signal is designed to promote standardized measurement of a speaker system's max linear output. The mathematical formula for generating M-Noise was derived following extensive spectral analysis of a wide variety of music program material. In particular, the analysis measured the varying crest factors in music, and how these measurements compared to pink noise. A free download of the 96 kHz WAV M-Noise file is available at m-noise.org.
Nexo (www.nexo-sa.com) unveiled the new flagship in its popular GEO line. Aimed primarily at the mid-size rental company, the GEO M12 weighs just under 75 pounds, and employs a premium 12″ neodymium LF driver paired with 1.4″ exit titanium diaphragm HF. Integral rigging hardware with no loose parts makes it easy to quickly configure ground stacks and line arrays of various scales. An install version and two different subs are also offered.
PK Sound (www.pksound.ca) was showing Trinity 10, the first mid-sized, three-dimensionally controlled sound system that is configured remotely, capable of focusing sound exactly where it is intended. This robotic line array equips users with control over the vertical (0 to 12 degrees) and horizontal (50 to 120 degrees) polar directivity of the entire array. The three-way (dual-10") design weighs 105 pounds and features 3,000W of onboard amplification with AES and analog inputs.
PreSonus' (www.presonus.com) CDL12 constant directivity loudspeaker (now shipping) combines the best of point source and line array designs for a focused pattern throughout the frequency response range. A companion CDL18 subwoofer is also offered. Both Dante-enabled, powered enclosures can be flown as a vertical array, or combined for ground-stacked applications. The CDL12's integrated 500W + 500W Class-D power amp has onboard DSP presets and full remote system tuning access via PreSonus' Worx Control software.
QSC (www.qsc.com) was showing its new value-priced the CP Series powered speakers for portable and installed use. Each features a 1,000-watt amplifier, advanced DSP and the ability to mix up to three input sources (mic/line, line and music playback device) at once. As part of a larger system, CP can be deployed on a speaker pole, as a floor monitor or as an instrument amp.
RCF (www.rcf.it) had numerous new products, including the HDL 26-A and HDL 28-A compact line arrays and three flyable complementary subwoofers (HDL 35-AS, HDL 36-AS, and HDL 38-AS) — all with RDNet, RCF's network control and monitoring system. Also new are two 15" point-source models (D-Line, HD 15-A, and HD 35-A) and the ultra-high powered (and RDNet controllable) 2,000-watt HDM 45-A. New in its TT+ line is TT 4-A Series column array with variable waveguides, innovative rigging, RDNet, a rotatable enclosure and swappable components.
Verity Audio's (www.verityaudio.fr) first active line array product, the IWAC220P is loaded with dual-10" woofers and dual 1" exit, horn-loaded HF compression drivers. The plug-in amp module mounted on the rear of the cabinet facilitates quick repair or replacement even when hanging in an array. Each driver has a separate DSP and amplifier (2 x 220W RMS and 2 x 800W RMS) for precise control of interaction between drivers. An innovative hardware design allows setting splay angles while the array is on the ground, to reduce set-up time. DSP control is via Verity V-NET USB network management system.
VUE Audiotechnik (www.vueaudio.com) showed its e-Class, including VUE e-352 and e-351 Nano speakers and the es-269 subwoofer along with the VUEDrive V242 Systems Engine. The VUEDrive V242 adds Dante networking and DSP along with two inputs and four 500-watt amplifier outputs/zones. Onboard factory DSP presets are provided for all models and application alignments of e-Class systems, with network remote control via SystemVUE software on iOS, Mac OS, and Windows along with analog, AES digital and Dante network audio inputs. The mini-sized sub combines two 6×9-inch drivers with VUE's Active Compliance Management (ACM) technology for punch rivaling 10" or dual-8" systems.
MICS, MICS, MICS!
 You can never have enough mics. A tradeshow just doesn't seem right without some new microphones to check out, and NAMM had plenty to offer.
AKG (www.akg.com) launched its DMS100 and DMS300 professional digital wireless systems, which offer 2.4 GHz operation with advanced security features, extended battery life and ease-of-use. The eight-channel DMS300 and four-channel DMS100 are available in two configurations: an AKG handheld microphone or an instrument- or headset-ready body pack. Shipping is slated for Q2 2019.
Audio-Technica (www.audio-technica.com) showed new systems for its ATM350a cardioid condenser instrument mic, including the AT8491S surface mount (great for accordion) and the AT8491G guitar mount. Each is offered as full system (ATM350a mic, mount and gooseneck), mount only or bundle with mount and gooseneck only. The ATM350a is suited for woodwinds, strings, brass, percussion, drums and piano and can handle 159 dB max SPLs. The AT8491S surface mount can be attached permanently using the accordion's grille screw and the included adhesive silicon pad, or it can be attached temporarily using included 3M Dual Lock pads.
Audix (www.audixusa.com) previewed the R303, its first ribbon mic design. Featuring a roadworthy embossed ribbon element, the mic handles 134 dB max SPLs and boasts a 40 Hz to 16 kHz frequency response. Street price is expected to be $499 when it starts shipping in a couple months.
CAD Audio's GXLD2 (www.cadaudio.com) wireless system operates in the 900 MHz band that's free of FCC regulatory issues. Other features include an LCD display for readability in low-lighting, advanced dipole antenna to increase operating distance and balanced XLR and ¼" unbalanced outputs. Configurations include: GXLD2-HH Dual Handheld; GXLD2-HB Handheld and Bodypack; and GXLD2-BB Dual Body Pack. Handheld transmitters feature the CADLive D38 capsule; bodypack systems include a CAD headworn mic and a guitar cable.
Lauten Audio's (www.lautenaudio.com) LS-208 ($599/street) is a front-address, large-diaphragm cardioid condenser mic. With its off-axis rejection and internally shock mounted condenser element, the mic is well suited for capturing horns, percussion and guitar amps. It features independent, multi-stage, high and low-cut filters (50 and 120 Hz) and (8k and 10k Hz) and features a JFET transistor circuit with a transformer balanced output.
Lewitt Audio (www.lewitt-audio.com) launched the LCT 140 AIR, a small diaphragm condenser mic with two switchable sound characteristics. A HF boost switch provides a choice between an open and sparkling tone or a highly-realistic sound, as well as a -12 dB pad switch and selectable 80 Hz high pass filter. Street price is $149 when it ships in April.
Royer Labs' (www.royerlabs.com) new dBooster (model R-DB20) inline signal booster/impedance buffer adds 12 or 20 dB of gain to passive ribbon and dynamic mics. The phantom-powered, Class-A design increases level without distortion or coloration and can drive either a standard microphone preamplifier or a digital interface directly, even over long cable runs. Street price is $179 and it ships this month.
PRODUCTION ESSENTIALS!
Every show, there are certain hip things we encounter, which may not grab the headlines in the trade press, but can definitely make your life easier in the live audio lane.
Ashly Audio's (www.ashly.com) next-generation mXa-1502 mixer amp brings four zones of mixing and DSP, plus 2 x 150W of power and programmable mic preamplifiers into a single, rackspace. DSP functions can be controlled via any browser-enabled device via simple Ashly software. It also provides multi-zone music distribution, paging, sound-masking, automatic mixing and can process 12 audio inputs into four different areas of a church, restaurant, school, office, warehouse complex or other facility.
Powersoft's (www.powersoft-audio.com) T Series mid-range amplifiers offer AES3 and Dante compatibility and fully integrated DSP at a price point that would appeal to the rental market. The Series includes 2- and 4-channel models available in 3,000 W and 6,000 W versions supporting channel powers from 750 W to 3,000 W in a single rack unit. Remote control and advanced signal processing is offered via Powersoft's ArmoníaPlus System Manager as well as onboard DSP.
Sensaphonics (www.sensaphonics.com) dB Check Pro sound level analyzer displays actual in-ear SPLs of persons wearing IEMs or headphones. Answering the question "How loud is it in there?" it shows both accurate SPL levels and safe exposure times. Company president, audiologist Dr. Michael Santucci described it as "like a speedometer for your ears, showing actual levels in real time, so you can make an informed choice of how loud to listen." It also functions as a basic sound level meter, with an onboard mic for measuring ambient room levels.
Whirlwind's (www.whirlwindaudio.com) ROK1/ROK2 are UL-listed devices that provide a convenient way to turn power on/off for remotely located equipment (amp racks, powered speakers, etc.) on 20-amp branch circuits that consumes power even while not in use. The ROK 1 is single-phase 120 VAC; the ROK2 is for single-phase 240 VAC or two legs of 208 VAC 3-phase. Both use a dry contact closure that energizes the relay coil with an internally generated 24 VDC control voltage and include a decorator-style faceplate for installation in standard electrical boxes.
Wisycom (www.wisycomusa.com) showed its MPR50-IEM Wideband Receiver, a compact, true-diversity receiver designed for pro IEM applications. It features a wideband 232 MHz tuning range, mono or stereo MPX audio processing and 200 milliwatt headphone amps. Also included are a separate release/attack compander and an FM IFB mode with narrowband modulation to enhance noise immunity and coverage.
Looking To The Future
There was a lot more at NAMM and we'll present these online and in our regular print new products sections in the months to come. Meanwhile, the NAMM Show will return to Anaheim from January 16-19, 2020. Summer NAMM will reconvene the industry in Nashville July 18-20, 2019. See ya there!
Leave a Comment: