OVO Systems Introduces LAVA Line Array System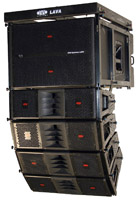 OVO Systems introduces its new compact line array, the LAVA. The small vertical array is designed to have a combined output of 1200 Watts RMS, making it compact in size, but large in output.
The LAVA System is composed of 4 mid-highs and 1 low cabinet. Each of the 4 mid-highs uses two 6.5-inch woofers and a 2-inch compression driver; the low contains two 12-inch woofers, as well as housing a four-channel class H power amplifier — the heart of the system. The amplifier wattage is designed to work with all components in the system and enables the user to easily control the frequency from 80 Hz to 250 Hz on the amplifier itself. The system also allows for 16 positions of display angles for better dispersion of sound.
For further information, please visit www.ovosystems.com.
Leave a Comment: