No Line Is On Island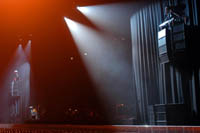 OLD LYME, CT–Pink Floyd front man David Gilmour recently celebrated his sixtieth birthday with a number one solo album, On An Island, and a tour of Europe and the United States. Both legs of the tour utilized Turbosound Aspect modular point source loudspeaker systems, which were supplied by Britannia Row for the European leg, and Rat Sound for the U.S. shows. "David didn't particularly like line arrays, so that does narrow it down these days," comments FOH mixer Colin Norfield, who engineered Gilmour's last solo acoustic outing, in 2001-2002, and shared mixing duties on Pink Floyd's last tour, promoting The Division Bell.
Gilmour's recent nationwide U.S. tour carried 24 pairs of Turbosound TA-890H mid-high/TA-890L bass boxes, supplied, together with Turbosound TFM-450 monitor wedges, by Rat Sound of Oxnard, California. Pennsylvania-based Bauder Audio provided additional Turbosound systems, including TFM-420 wedges for some of the band members, including special guest vocalists David Crosby and Graham Nash, plus compact, full range, self-powered TQ-308SP units for audience front fill. A number of Turbosound TSW-218 subwoofers were also brought in for the final show, at the Gibson Amphitheatre at Universal CityWalk in Los Angeles, the largest venue on the U.S. tour.
The Aspect TA-890H three-way, mid/high box offers a 25-degree vertical by 15-degree horizontal dispersion pattern. The mid-high section may be rotated through 90 degrees, allowing the rectangular cabinet to be oriented vertically or horizontally as required.
Gilmour's third solo album On An Island, his first for 22 years, went to number one after its release on March 8th. The touring band included his Pink Floyd band mate, keyboardist Rick Wright, as well as Roxy Music guitarist Phil Manzanera, who co-produced the new album. The tour featured material from On An Island as well as an extensive set of Pink Floyd songs, some of which had not been played live for decades. The tour returned to Europe after the U.S., where Gilmour played a series of shows at London's Royal Albert Hall in late May that included a guest appearance by David Bowie.
For more info, visit < ahref=http://www.turbosound.com/">www.turbosound.com.
Leave a Comment: