New Appointment at MC2 Audio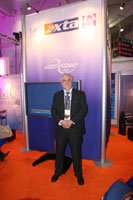 DEVON, UK — Bill Woods has been appointed to the position of group sales and marketing director for MC2 Audio, XTA and Quested Monitoring Systems.
"We are absolutely delighted to announce that Bill is joining us," says Group Managing Director Ian McCarthy. "This is the first appointment we've made since the companies merged in March this year and Bill will assume all Sales and Marketing responsibilities for the group."
Bill Woods, a veteran of the pro audio industry, has worked on a freelance basis representing Quested for the past three years. Later he returned to live sound, working for Ashly Audio to help them establish Camco in the US Market.
"It is a very exciting time to return to the UK and I am delighted to be joining such a great team," Woods says. "The individual brands are all very strong but the merger has prompted an unprecedented sharing of resources that will lead to some incredible, innovative products in the near future — I am looking forward to meeting as many customers as possible at PLASA."
ACTION ITEM:
For information, please visit www.mc2-audio.co.uk
Leave a Comment: