MacArthur Park Concert Series Powered by Crown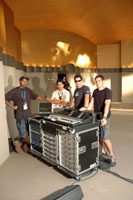 LOS ANGELES — Nothing provides a better focus for an urban population than a free summer concert series, a fact that is being illustrated by MacArthur Park's historic Levitt Pavilion for the Performing Arts. To properly accommodate sound reinforcement duties for a diverse roster of acts, LA Sound Company, in conjunction with Brian Riordan of Levels Audio, used Crown I-Tech and XTi Series power amplifiers driving a fully JBL loudspeaker setup.
"We have had good experience in the past with Crown I-Tech and XTi systems," says LA Sound Co. Owner Richard Ralke. "So, they were a natural choice for us to use at Levitt Pavilion. Aside from sounding excellent, which is our number one criterion, the Crowns are easy to program, incorporate a lot of powerful DSP, and are very efficient with low power consumption. The I-Tech Series, in particular, is also extremely versatile in handling a wide range of speaker impedances and outputs."
Because of scheduling changes, the pavilion's sound system was specified, designed and assembled in just three weeks. To streamline system adjustment, all Crown power amplifiers are networked via Ethernet using Harman Pro's HiQnet(tm) communications and control protocol.
"We can set up crossover filter parameters and delay from a PC and load them into each amplifier," says Sound Co. Owner Richard Ralke. "In fact, JBL supplied us with new systems settings for the loudspeakers, which we used to reprogram each amplifier; it only took us a couple of minutes. We also had to ensure that the entire PA system could be taken down in just 45 minutes, since the owners strike the venue at the end of each evening performance. We designed the custom amp racks with multi-pin connectors so that the system can be rolled out, powered, and ready to go in a very short time."
Levitt Pavilion's sound system currently comprises of four JBL VerTec VT4887A line array cabinets flown per side powered by four Crown I-T4000 amplifiers, two JBL ASB6128V subs stacked per side powered by a pair of Crown I-T6000s, plus eight JBL SRX712M stage monitor cabinets driven by a rack full of eight Crown XTi 4000s.
MacArthur Park's summer concert season at Levitt Pavilion runs from Aug. 8-Sept.16 with a full season of 30 nightly concerts. The park's vintage bandstand and acoustic shell were built 50 years ago, but recently underwent a $2 million renovation and modernization to accommodate this year's concert itinerary, which is produced by The Friends of the Levitt Pavilion MacArthur Park, a non-profit organization.

ACTION ITEM:
For information, please visit www.lasoundco.com and www.crownaudio.com.
Leave a Comment: