Lining Up At Upfronts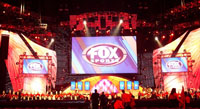 NORTHRIDGE, CA — Leading sound company On Stage Audio recently provided the audio system for the Fox Broadcasting Company's annual Upfront presentation, held May 18 at the Armory in New York City. The event, during which Fox introduced its Fall programming schedule to a crowd of 4,000 potential advertisers, featured appearances by major stars like Kiefer Sutherland, Simon Cowell, Hugh Laurie and Carrie Underwood. At Fox's Upfront event, On Stage Audio provided a system comprising various models from JBL's VerTec series, including 16 VT4889 full-size line array elements and 18 VT4888 mid-size line array elements (arranged in three clusters of six for delay fills). Additionally, six VT4887 compact line array elements were used in a center cluster, with 16VT4882 mid-size subwoofers providing low-frequency sound reinforcement. Handling front of house audio duties was Paul Deuschle, Director for On Stage Audio's Orlando, FL office.
Supplementing the primary VerTec system were six VRX932LA compact portable line array loudspeakers, used as front fill on top of the VT4882 subs, and 12 SRX712M loudspeakers serving as stage monitors.
For more info, visit www.osacorp.com or www.jblpro.com.
Leave a Comment: