FOH Has Monster Of A Time At Eurovision 2006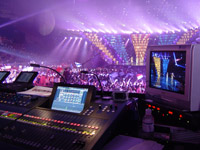 PLOUGOUMELEN, FRANCE–The Eurovision Song Contest is traditionally one of the biggest media jamborees on the European music calendar, and 2006 was no exception. Held in the Olympic Indoor Hall at the heart of the 2004 Olympic Games complex in Athens, this year's show attained new heights in terms of technical production. Looking after FOH sound for the event was Greek audio production specialists, and InnovaSON distributor, Enttech S.A. Enttech specified a total of four InnovaSON digital audio mixing consoles for the show; two Sy48s on FOH duty handling both the main act and all the other microphones such as commentators, presenters and guests; and two Sy80s on monitors. Enttech's sound designer, Nikko Xpovomoulos explained that for such an important show that was broadcast live to over ten million viewers, not to mention the 13,000-strong audience in the arena, full redundancy was imperative. He therefore set up A and B systems each comprising and Sy48, a stagebox and an Sy80.
For more info, visit .
Leave a Comment: