Elite Multimedia Supports Matt Maher's 'Echoes of Worship' Tour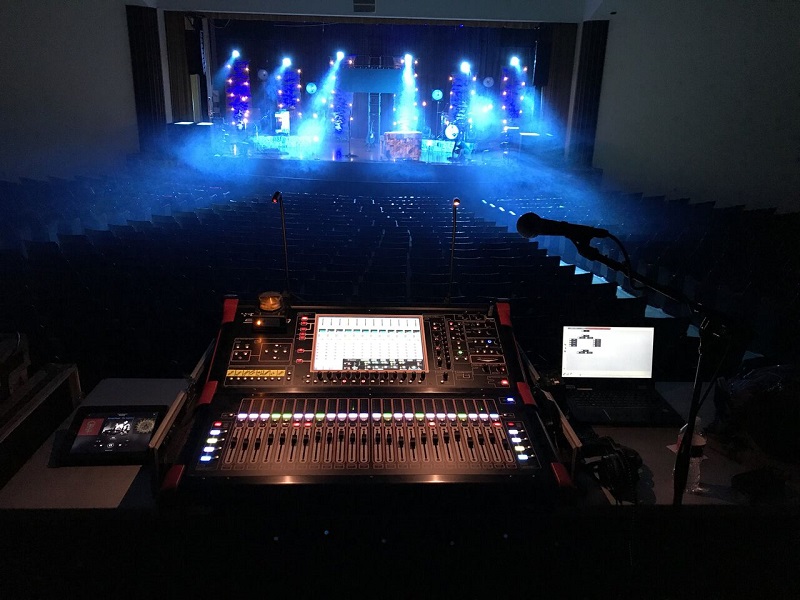 NASHVILLE, TN – Elite Multimedia supplied a versatile audio rig featuring DiGiCo and L-Acoustics gear for contemporary Christian artist Matt Maher's "Echoes of Worship" tour. Production manager Chris Damiano worked with Elite Multimedia on a touring setup that includes a DiGiCo SD9 console at front-of-house to drive a house or tour rig that might typically include KIVA-II compact line arrays with eight boxes a side and four SB18 subwoofers.
More details from Elite Multimedia (www.elitemultimedia.com):
As one of today's most popular Contemporary Christian Music artists, Matt Maher has been nominated for nine Grammy Awards, and was named "Songwriter of the Year" by the GMA Dove Awards. With the release of his latest album, 2017's Echoes, Maher recently set out on the "Echoes of Worship Tour" with dates scheduled across North America. Needing an audio design that could travel easily and adjust to any worship environment, production manager Chris Damiano worked with production provider Elite Multimedia who supplied an adaptable audio rig with DiGiCo and L-Acoustics.
"I had previously worked with Matt on a one-off show earlier in 2018, but this was my first full-length tour with him," began Damiano. "When we started speaking about the design, the initial parameters where that it needed to fit into a box truck and that it needed to go up easily with only three touring technicians. Playing in various churches with a multitude of seating configurations, we also needed the touring design to be flexible to accommodate each venue, and Elite Multimedia really came through with a great audio package."
Working in Nashville for the tour prep, Damiano was excited to jump into the design process. Since he would be partnering with technicians who had previously toured with Matt, he knew he could rely on them for both the ideal audio package and a bit of touring insight as well.
Damiano continued, "I've worked with the team at Elite Multimedia on past shows with different CCM artists, but the thing that made this tour unique was that Harry Shaub and Jeremy Simmons at Elite had both been out on tour with Matt previously. It was great to be able to collaborate with them while we were doing prep at the shop, and it really made my job a lot easier. I definitely had more support going into this job than I've had with most of my other production manager gigs."
Diving into the audio design, the production team knew exactly what they needed to accomplish. With the recent Elite Multimedia acquisition of new gear from DiGiCo and L-Acoustics, they quickly had the audio package ready to go.
"I have personally been out with Matt for about a year, but we have been working with him at Elite Multimedia for about 2-3 years supplying different concert and festival productions," explained Jeremy Simmons, Audio Engineer, Elite Multimedia. "When we picked up our new L-Acoustics rig, we knew it would be great fit for this type of tour. The KIVA-II system is nice and light in terms of the setup, but it also has a great coverage area."
Damiano added, "We were running the system through a DiGiCo SD9 console at front-of-house, and it went together pretty quickly. With the only acoustic sound in the room coming from the main PA, two isolated guitar amps, and a drum set, we honestly had no big battles to fight each night, and this was the ideal situation to let the L-Acoustics and DiGiCo systems show their true capabilities."
Now ready to head out on the road, the production design would be tested to see if it was up to the challenge. Working together, Damiano and Simmons were able to evaluate the audio obstacles at each venue and deploy the most appropriate rig configuration.
"I typically advance a show to the point where we have a solid idea of what system we will be using: either the house PA, tour PA or a combination of two," said Damiano. "A lot of times, we would be playing very wide sanctuaries where we'd need maximum coverage without sacrificing horsepower. In those situations, it was great to have Jeremy on tour.  Together, we would decide the best way to cable and deploy the audio system for maximum sound efficiency, which worked very smoothly.  We never faced a situation where we ran out of headroom.  Even in the biggest rooms, the PA sang and punched hard enough to keep the entire audience immersed in the mix."
"While we do try to get as much information as we can about the shape and size of the room, nothing beats actually walking into the sanctuary to get the true feel," added Simmons. "Our standard setup is a KIVA-II compact line array with eight boxes a side, and then also four SB18 subwoofers on each side as well. The subs work great because L-Acoustics has built-in presets that allow us to take one of the boxes and turn it 180-degrees if necessary to help reduce any stage rumble we might be experiencing. It's very easy to aim where you want less of the low frequencies which helps tremendously and allows us to cover a large area."
Damiano continued, "I was really impressed with the sonic quality and the robust performance of the audio package. As we would dive into compressors and EQ, the audio elements really slid into place. This is the first tour that I've worked on a DiGiCo console, and it was such a great experience that it will be difficult to go back to other platforms."
Playing to sold-out houses full of those seeking a dynamic worship experience, Maher's music is celebrated across multiple denominations. Known as an artist who links the heart with the human condition, both Damiano and Simmons knew that a transparent audio design would be imperative to a successful worship environment.
"The way I've always approached Matt as an artist is to be as adaptable as possible because at the end of the day, we are there to serve the church and the community," admitted Simmons. "As audio technicians, we have to make sure it's all about the music and the vocals, so that the true message can be heard night-after-night."
Damiano concluded, "Matt is an incredible songwriter and artist, and you can feel the band putting their emotions into the music. There is an element of the performance that is allowed to breathe and flow, and it is very much about the worship experience. When he performs, there is an incredibly positive energy in the room, and it excites me to be able to be a part of helping that energy be communicated to the audience in a way that will create a memorable worship experience."
Leave a Comment: