Dave Skaff Joins Digidesign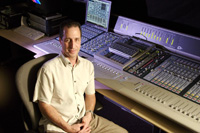 DALY CITY, CA–Digidesign has announced the appointment of Dave Skaff as Live Sound Product Specialist; Skaff brings over 26 years of experience as a live sound and studio engineer, and as a system designer and audio consultant. He most recently served as a Senior Staff Engineer for Clair Bros. Audio (1983-2006) and now joins multiple TEC Award-winning engineer Robert Scovill as part of Digidesign's live sound team. Over his 26-year career in live sound mixing, Dave Skaff has worked stints as FOH mixer/system engineer/crew chief for Alicia Keys, Paul Simon, Barbra Streisand and Shania Twain. He's also handled FOH duties for Jewel, Ricky Martin and Madonna (at the 2003 MTV Video Music Awards show). As a monitor engineer, Skaff's worked with the Steve Miller Band, Yes, R.E.M, Robert Plant, Bruce Springsteen, and U2, who he's been with since 1985.
"We are thrilled to have Dave Skaff onboard," offers Digidesign live sound market segment manager Robert Scovill. "Dave not only understands the needs of today's live sound professionals, but his system design and consulting experience will also be invaluable."
Skaff has a mantel full of accolades for his work, including two Center Stage Awards from ProSound News (2001, 2006), a pair of TEC Awards citing "Outstanding Creative Achievement" for his work on U2's 2002 Elevation and 2005 Vertigo World Tours. In 2005, Skaff was also awarded a coveted Parnelli Award for Monitor Mixer of the Year.
For more information, www.digidesign.com.
Leave a Comment: