Cellist Jacob Szekely Opts for Sensaphonics 3D AARO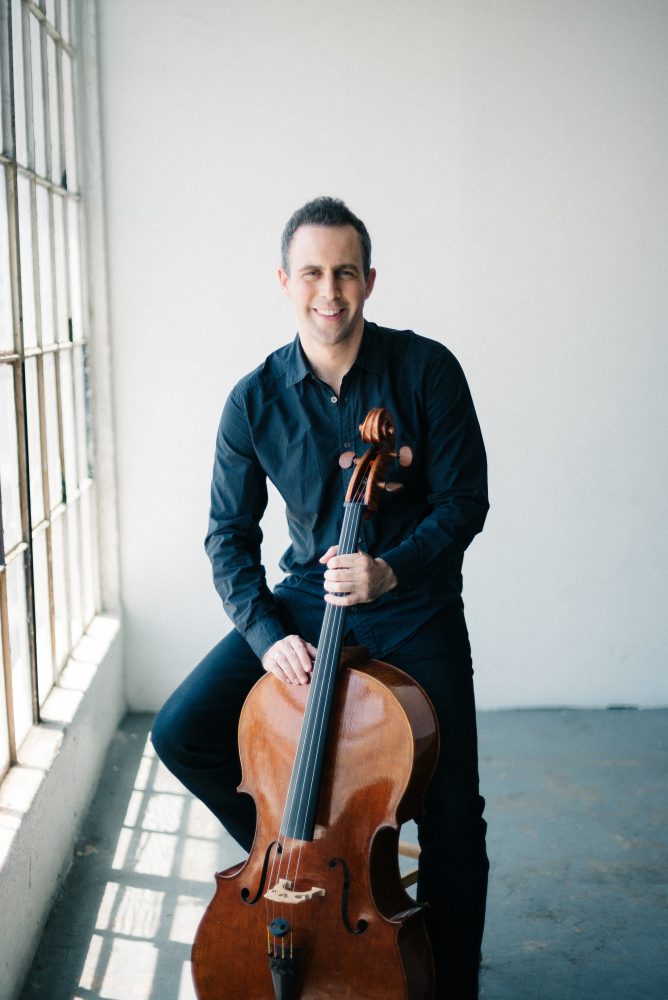 CHICAGO, IL – Progressive cellist Jacob Szekely has opted to use Sensaphonics' 3D AARO in-ear monitoring system during his performances.
More details from Sensaphonics (www.sensaphonics.com):
Playing a stringed instrument on a loud is a huge challenge. Floor wedges are insanely loud and promote feedback, while conventional IEMs eliminate the connection between player and instrument for proper intonation. After years of frustration, improvisational cello player Jacob Szekely found the Active Ambient technology in Sensaphonics 3D AARO in-ear monitoring system is the solution.
A progressive cello player, arranger, composer, and an avid champion for creative string playing, Szekely is classically trained, but dedicated to jazz and improvisational playing. In addition to Jacob Szekely Trio and constant studio work, he has toured as a featured player with Rush, Jay Z, Mary J. Blige, and Ellie Goulding. Off stage, he operates String Project Los Angeles, a school for creative string playing; produces The Improviser's Guide to the Cello, an instructional video series and online community for classically trained cellist; and founded Electric String Player, an online resource that includes The Pick-up Test, a unique information source on amplification for strings.
For years, Szekely struggled for years to monitor effectively as a cello player on stage. His search was finally rewarded when he discovered the Sensaphonics 3D AARO in-ear system with Active Ambient technology.
"As a cellist, there is nothing more difficult than monitoring in loud situations," explains Jacob. "Because we don't have frets, string players need to hear both pitch and timbre, which most people don't realize. I've used a lot of different in-ears, which are usually required on large stages, but I've never liked my tone. So when I heard about the Sensaphonics 3D with Active Ambient mics, I went to check them out at their NAMM booth."
What Szekely experienced during his live demo was so convincing, he immediately ordered a system for himself. "They had a listening station with a PA setup, with an engineer there to answer questions. You could actually try the universal-fit version [3D-U AARO] and play with the bodypack, change the ambience levels and hear how they perform. It totally blew my mind!"
Having worked with his custom 3D AARO for several months now, Szekely describes it as his ideal monitoring set-up, not just for large stages, but also in small club gigs and rehearsals.
"What I realized during the demo is that the 3D isn't just for loud stages. It really is a complete monitoring solution I can use for rehearsals and club dates as well as large stages," he says. "The 3D lets me control exactly how much cello and how much room sound is in my mix, so I always have enough 'me' and as much ambient room sound as I want. No more different sound every night, just very consistent. And it lets me play better because I can finally hear my instrument. It's really changed my life."
As a player, educator, and influencer in the world of stringed instruments, Szekely wants to spread the word about 3D AARO. "Once I heard the system, it was no-brainer. These are a quantum leap past anything else out there," he says. "As a string player, you need that connection between your instrument and your ears, which is simply not possible with other products – and believe me, I've tried. The Sensaphonics 3D is the solution. It gave me my ears back on stage, and that's a revolutionary thing."
Another aspect of Active Ambient monitoring that Jacob Szekely appreciates is the ability to hear everything clearly at lower volumes due to the industry-leading isolation of deep-fitting soft silicone earpieces. "Sensaphonics talks a lot about comfort and feel, and it's true: the fit is amazing, and the so is the seal. I love how they feel in my ears. But I also appreciate the fact that they are not susceptible to breaking if you drop them. The silicone protects them, which is awesome."
With its Active Ambient embedded microphones, 3D AARO eliminates the need to remove one earpiece, a common practice that forces IEM users to then turn up the volume. "Having basically been forced to play with one ear out for years, I've always worried how that might affect my hearing," says Szekely. "It's great to find an in-ear company that addresses that.  Knowing that I can protect my ears but also experience the music at the volume I want – it's just a level of control that I've always wanted but never had. Now I have as much cello as I want, and I can actually take the cello out of the monitor mix on loud stages, which eliminates feedback issues. So that's another benefit."
Since switching to Sensaphonics 3D AARO, Jacob Szekely has become a big fan, spreading the word to other musicians who face similar monitoring issues. "This product fills a real need with real innovation," he says. "It was literally the answer to my prayers, and helped make me a better musician and better performer. I recommend the 3D system to anyone who needs to hear better on stage, especially string players. My message is simple: Contact Sensaphonics and set up a demo. You'll be glad you did."
For more information, please visit www.sensaphonics.com.
Leave a Comment: