beyerdynamic DT 60 PRO In-Ear Headphones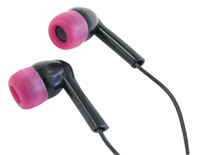 FARMINGDALE, NY — beyerdynamic introduces the DT 60 PRO In-Ear Headphones. Designed for use with in-ear monitoring systems, the DT 60 PRO is designed to provide accurate audio reproduction combined with effective sound isolation in loud environments.
Direct coupling of the DT 60 PRO's transducers is designed to provide users deep bass, balanced mids, clearly defined highs and sound isolation from ambient noise.
The DT 60 PRO comes equipped with three different pairs of silicon ear pads. Users have an option of black, white and beige models, allowing the headsets to be inconspicuous. At a little more than half a pound, the DT 60 PRO is ideal for touring and live situations.
"For monitoring applications, professionals are looking for superior sound reproduction as well as safe volume levels," says Paul Froula, beyerdynamic's pro audio manager. "The high level of sound isolation the DT 60 PRO provides allows users to listen at lower volume levels, so they can protect their hearing without affecting the sound quality."
In addition to professional applications, the DT 60 PRO's can be used with mobile consumer products such as MP3, CD and DVD players.
ACTION ITEM:

For more information, please visit www.beyerdynamic-USA.com.
Leave a Comment: