Amps Power New Organ Model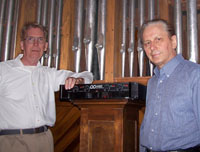 CHESTER, PA–A new organ design based upon digital modeling technology from Innova Organs utilizes Inter-M QD-4480 four-channel power amplifiers at the heart of its paradigm-shifting concept. Rather than relying upon digital sampling commonly found in current designs, the Innova Organ design utilizes digital modeling that works directly with audio waveforms. The proprietary modeling language, developed by Bradford University and then refined by Musicom, Ltd. (both of the UK), can be utilized as a control system for traditional pipe organs, as the basis for digital organs, or a combination of the two.
"Sampling is a reproducing system that does not allow creation of new sounds or for details contained within each sound to be dynamically altered," explains Allan Ontko, co-founder of Innova Organs, based in Charleston, SC. "Advanced digital modeling, on the other hand, allows musical elements to be controlled and tailored."
With 35 years of dedicated organ design and voicing experience with Ontko Pipe Organs, he notes that the combination approach will offer several advantages for churches, the primary customer market. However, these benefits also transfer across all applications.
"By combining a traditional pipe design with this new digital approach, we're able to provide a compact instrument with a 'cache' of pipes," Ontko says. "Conversely, this approach also works well for those customers without the budget or space for a large number of pipes. The bottom-line is that we let pipes do what they do best, and digital do what it does best, and this way, the organ provides the best of both worlds."
At the heart of the Innova Organ design are four-channel digital sound cards that generate digital tones in real time. These are fed to a high-end output system made up of Inter-M QD-4480 four-channel power amplifiers driving custom audiophile-quality loudspeakers, with each assigned its own amplifier channel.
For more info, visit www.inter-m.net.
Leave a Comment: