Allen Records Krzysztof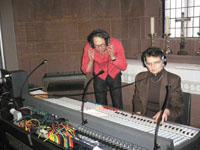 CORNWALL, UK–The National Polish Radio Symphony Orchestra recently employed an Allen & Heath ML3000 live sound VCA console to manage live recording and broadcast during the Penderecki Festival, an annual three day event held this year in Germany, which honours the renowned Polish composer, Krzysztof Penderecki. The Festival was held at three different locations–St. Dyonisius Church in Rheine, Il Bagno concert hall in Steinfurt, and Munster cathedral–and comprised performances of many of Penderecki's works and a variety of classical masterpieces by The National Polish Radio Symphony Orchestra and conducted by the man himself.
The grand finale of this year's festival was a performance of Penderecki's St Luke Passion, regarded as the composer's breakthrough to world renown. It was originally performed at the same location 40 years ago, and to mark the milestone, the anniversary performance was selected for broadcast to various radio networks, and for CD release later this year.
The ML3000 handled a stereo master and an 8-track feed from the 32 mic inputs with the help of the console's mode switching facility. The performance was mixed live by the Polish Radio Symphony Orchestra producer, Beata Jankowska, and broadcast live to the various networks. The same mics were also routed via a mic splitter into a 32-channel ProTools system, to provide an independent 32-track recording, which will be edited for the CD release of the performance.
For more info, visit www.allen-heath.com.
Leave a Comment: