A Note of Holiday Thanks to Sponsors of the 18th Annual Parnelli Awards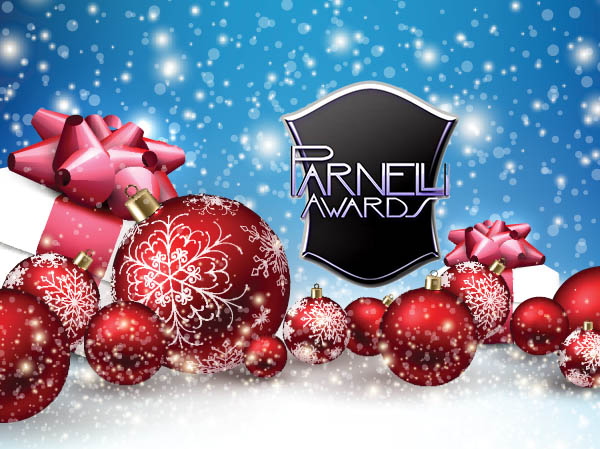 LAS VEGAS – It's the most wonderful time of the year, a time to celebrate not just "getting," but the rewards of giving as well. And the organizers of the upcoming Parnelli Awards are especially grateful for the returning and new sponsors of the 18th ceremony, set for the Hilton Anaheim on Jan. 25, 2019.
The three Parnelli Awards honoring career achievement are going out to Chris Adamson (Lifetime Achievement Award); Yvan Miron (Visionary Award) and Brock Adamson (Audio Innovator).
"It's an exciting time for all of us on the Parnelli production team as we build on last year's successful show," says Terry Lowe, Parnelli Awards executive producer and publisher of PLSN/FOH magazines. "We're especially grateful that so many past sponsors are returning to make it all possible. And it's exciting to see new sponsors come aboard as well."
In this season of giving, we'd like to once again thank all those who have made this annual event possible – and for an 18-year span. For the past three of those 18 years, we're especially grateful for Group One Ltd. (Avolites/DiGiCo), which returns in the top-tier Platinum Sponsor spot.
The list of Gold Sponsors, meanwhile, includes 4Wall Entertainment, Adamson Systems Engineering, Bandit Lites, Blizzard, Bose, dBTechnologies, Gallagher Staging, G2 Structures, Global Trend Productions, Harman Professional (AKG, BSS, Crown, dbx, JBL, Martin Professional, Soundcraft/Studer), Maryland Sound, Meyer Sound, Moo TV, NAMM Live!, NovaStar, Pyrotek Special Effects, Rock-It Cargo, Screenworks/NEP, Solotech, Sound Image, Stageline, Strictly FX, Ultratec Special Effects and VUE Audiotechnik. Silver Sponsors includes ACT Lighting, CryoFX, Elation, Hemphill Brothers, On Tour Logistics and See Factor.
The Parnelli Awards' before and after parties are always great networking opportunities. Those stepping up as Cocktail Sponsors include Chauvet Professional and TLS Productions. And Pyrotek Special Effects also returns as the after-party sponsor. And the awards ceremony will also once again be supported by production partners including Access Event Solutions, Atomic, Green Hippo and TPI.
For more information on sponsorship, contact Greg Gallardo at gregg@timelesscom.com. For more information about the Parnelli Awards, and to reserve your seat or table, go to www.parnelliawards.com.
Leave a Comment: