VUE China Powers GRAMMY Fest Beijing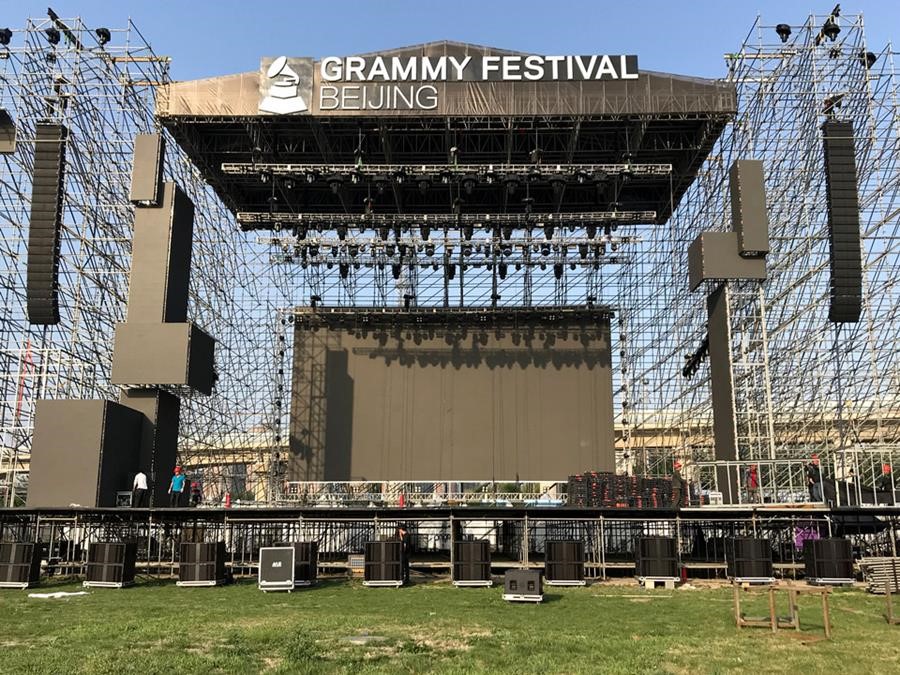 BEIJING, China- An al-Class line array systemwas deployed by VUE China for the world debut of GRAMMY Festival.

More details from VUE Audio (www.vueaudio.com):
In keeping with its commitment to mirror VUE's soaring worldwide market position in the Mainland Chinese market, the newly expanded VUE China deployed the VUE al-Class line array system at the world debut of GRAMMY Festival in Beijing on April 30, 2018. GRAMMY-winner Pharrell Williams, mixed by Kyle Hamilton on the VUE rig, headlined the one-day, nine-act festival on his very first visit to China in front of a crowd of more than 30,000 at the outdoor Chang-yang Music Theme Park. Other acts included DAYA, Macy Gray, Phoenix, Carly Rae Jepsen, James Bay, OneRepublic and two Chinese singers William Chan and Nicholas Tse. Shanghai-based VUE China partnered with production company Wuhan Blues to provide the system set up.
Situated on one of two side-by-side 95-foot-wide stages, the VUE rig included two clusters of 23 al-12s, a chest-thumping 28 hs-221 subs stacked in front of the stage, and 12 al-8s ground-stacked atop the hs-221s for front fill. According to Greg Kirkland, VUE's technical sales manager who was on-site for the event, the al-class array was easy to set up, and delivered consistent coverage across the 350-foot deep audience field, in spite of some challenges posed by the stage configuration.
"We were forced to fly each cluster 10 feet higher than originally planned to do the eventual placement of the video elements," explained Kirkland. "When you're flying most line arrays, an additional 10 feet in vertical distance would pose a coverage challenge in such a large field, but thanks to their Beryllium compression drivers and high-frequency diaphragms, the al-class was still able to deliver much cleaner high-frequency content and cleaner/louder sound throughout the field. In fact, we averaged 105 dB broadband, a-weighted, and had plenty of level to spare. Let's just say nobody asked for more volume."
Kirkland utilized System VUE to insert subwoofer array delays to achieve 90-degree dispersion from the tight-packed cluster of 28 subwoofers. "Thanks to SystemVUE, we were able to access every amplifier on each subwoofer enabling us to enter individual delay times into each sub and to also monitor a total of 64 devices from the FOH console. It worked perfectly."
VUE product used on-stage for Pharrell Williams included a total of eight model al-8 line array elements and two model hs-221 ACM subwoofers. Configured as a pair of side fill monitors, the speakers were stacked four al-8's each atop of one hs-221 subwoofer per side. 
Kyle Hamilton, on a break between Kendrick Lamar's The "Damn" Tour and his latest "The Championship Tour", mixed Pharrell William's headline act on the VUE rig. Now an al-class veteran after the 36-show North American leg of the tour, Hamilton was still impressed with the system's performance.
"The thing that continues to amaze me with the al-class is its fidelity," lauded Hamilton. "The highs on the al-12s are clear and clean and totally transparent. It was so cool to deliver Pharrell's first-ever Chinese performance, and to do it on a rig that I've said from the very beginning was going to change the entire game."
Leave a Comment: