Uruguay Festivals Grow with D.A.S.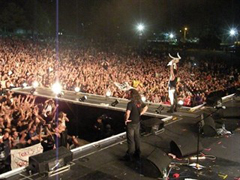 PUNTA DEL ESTE, Uruguay —In the last few years. D.A.S. Audio has seen a significant growth for concert festivals in Uruguay, and its sound systems have been featured in some of the country's largest events. Two recent examples are the Punta Rock and Pilsen Rock music festivals.
Punta Rock was staged in early March near Jagüel airport in Punta Del Este. It featured an audience of some 50,000 people and more than 20 national and international live acts, including Fito Páez, La Vela Puerca, Buitres and No te va Gustar.
Compañía Uruguaya de Sonido provided sound and lighting gear. The company, an advocate for D.A.S. Audio's line array systems since the early days, provided a PA system comprised of Aero 38 and ST- 218 systems, a "front fill" and "out fill" assembly consisting of several self-powered Aero 28A and CA215 A line array systems, together with a "delay" system comprised of 16 Aero 28A and 4 CA-215 systems.
"D.A.S. systems' versatility and quality allow us to achieve maximum performance at all times, with minimal setup times and with optimum sound," said Jorge González, the engineer in charge of the system.
The stage was also equipped with SML15A self-powered stage monitors, Aero 28 and CA-215 drumfill systems and a sidefill system, also comprised of Aero 28 and CA215 systems.
"The high-performance powered systems plus the consistency of the components is the perfect combination for this kind of festivals where optimum output must be achieved with little time for testing," said Fabián Vázquez, the engineer in charge of the monitor system.
After Punta Rock, Compañía Uruguaya de Sonido supported Pilsen Rock, staged for its sixth year. The producers for this festival used new technologies for the 80,000 visitors to the two-festival, which showcased over 20 artists, including the Aero 38 line array system.
Compañía Uruguaya de Sonido worked with partner company L Audio, which provided part of the PA and delay system. On all the shows it supplies, Compañía Uruguaya de Sonido gets support from the D.A.S. distributor in Uruguay, Oidos S.A.
For more information, please visit www.dasaudio.com.
Leave a Comment: