Turbosound Rocks As Camden Crawls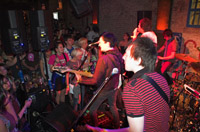 LONDON — Audio rental company Britannia Row tested Turbosound's brand new NuQ loudspeakers at the Camden Crawl music festival. Featuring a host of bands, with the well-established mixing with the completely unknown, the two-day event took place in 15 venues and featured household names like Travis, The Charlatans, The Damned and Black Rebel Motorcycle Club sharing the same stages with lesser-known artists such as I Was A Cub Scout, Fear Of Flying and Vincent Vincent and the Villains.
Britannia Row Productions supplied audio to seven of the venues, and used the new NuQ system in two of them. The NuQ systems were installed in The Cuban restaurant and the Oh! Bar, using four NuQ-12 mid-high cabinets, two per side, with four B18 subs. The five other venues supplied by Britannia Row were the Black Cap, Camden Tup, Earl of Camden, Enterprise and NW1, each of which utilised four QLight™ TQ-440 mid-highs and four TQ-425 subs, with all venues also featuring six TFM-420 wedge monitors.
A wide variety of music was played by 80+ acts during the two days. Most of the venues were small and not designed for live music, necessitating compact but powerful audio systems. "Because we were working in so many venues and there were so many bands playing, the idea was very much to have a standard system in all of them," says Britannia Row's Roly Oliver. He added, "We wanted to deliver a package that was very simple and very compact, but delivered great sound. Self-powered Turbosound cabinets gave the size, quality, reliability and flexibility we needed."
For further information, please see www.turbosound.com.
Leave a Comment: