Tree of Prosperity Show Blooms at Wynn Macau with Electrosonic Audio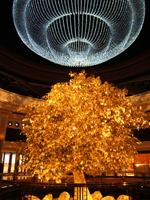 MACAU, CHINA – Electrosonic Systems Inc. provided audio, master show control, an intercom system and a closed-circuit video surveillance system for the complex Tree of Propserity Show in the Wynn Macau, which opened in 2006. Electrosonic's audio complement, consisting of Crown amps and JBL speakers, was fairly extensive with eight main speaker positions and subwoofers installed on the mezzanine level to play the music for the attraction.
Four effects speakers, which play back sounds like shimmers are linked through a slip-ring connection. Three additional effects speakers are suspended from a cruciform structure which also supports the chandelier plus four tweeter effects speakers which move as one with the light. Electrosonic engineered and installed the components for the attraction.
"Hands down this was one of the best clients I've ever had," says Electrosonic project manager Marcelo Videla. "Everyone was incredibly competent and knew how to get a complex job done. So everything went very, very smoothly and was done on time."
Housed in the atrium of a new wing of the casino, the Tree of Prosperity Show begins when music starts playing. Soon a 20-meter wide ceiling iris, with the Chinese horoscope sculpted on it, opens to reveal an LED display of abstract video. The tree rotates to the music until the show ends and all the mechanical elements return to their home positions.
Electrosonic also supplied an Alcorn McBride master show-control system, designed by consultant Joel Gread Associates, and Crestron touch panel which cues the internal system and vendor sub-systems and triggers the audio, lighting and mechanical elements of the Tree of Prosperity Show.
A Clearcom intercom system keeps the tech staff in close communication during every step of the show's execution. A comprehensive closed-circuit video surveillance system also ensures that the attraction is working as it should.
Mechanical engineering for the Tree of Prosperity Show was done by McClaren Engineering with fabrication and installation by Show Canada in Montreal. The automation systems are by Stage Technologies. Les Hill was Electrosonic's systems sales engineer for the project.
For information, please visit www.electrosonic.com.
Leave a Comment: