SLS Production Uses JBL VERTEC to Rock the Desert in Dubai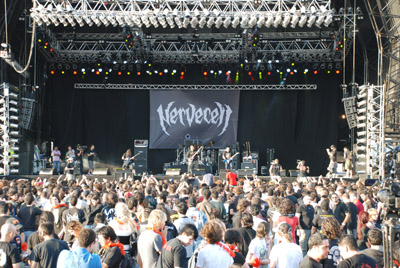 DUBAI, U.A.E — SLS Production of Dubai recently provided concert sound reinforcement services for Dubai Desert Rock Festival 2009, the 10th year for the concert series, with this year's show placing an emphasis on heavy metal acts. As in years past, the Festival featured an extensive range of JBL VERTEC line array models.
Staged at the Dubai Festival City, performers included Motorhead, Nervecell, Arch Enemy, Opeth, Chimaira and August Burns Red, plus Hatred from Germany and Scarab from Egypt, both of whom won entry by winning the "United We Rock" and "United We Rock/Middle East Edition," respectively. This year's event drew a crowd of more than 7,000 fans.

The main PA system featured left-right line array hangs, with each side including 12 JBL VT4889 full-size line array elements, three VT4887A compact line array elements and six VT4880 full-size arrayable subwoofers. For additional low-end support, SLS deployed two ground stacks in front of the stage, each containing 12 VT4880A ultra-long excursion, dual 18-inch arrayable subwoofers. Two arrays of two VT4888 midsize line array elements provided in-fill coverage, with eight VT4888 loudspeakers providing out-fill coverage. Additional arrays of VT4887 loudspeakers were used for side fills. Crown Macro-Tech amplifiers powered the system.

SLS Production has provided sound reinforcement for the Dubai Desert Rock Festival for the past several years, relying on JBL every year. "We first added VERTEC to our inventory eight years ago and we have had no regrets about that decision," said Girish Yerunkar, Sales Manager for SLS Production. "We have gradually expanded our rental stock and today we have the largest rental sound system in the entire Gulf region and can cater to concerts of 350,000 people, maximum."

For more information, visit www.slspro.net and www.jblpro.com.
Leave a Comment: