Scooter Jumps All Over the World with Innovason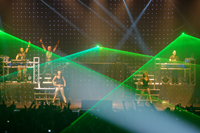 GERMANY – German dance act, Scooter, whose first album release in the UK since 2002 promptly knocked Madonna off the number one slot last month, has just completed a tour throughout Germany, Switzerland and Austria. Their latest tour, "Jumping All Over The World" was a high-energy techno extravaganza. Czech rental company, RentalPro, supplied full audio, lighting, laser, video and staging equipment, including two Innovason Sy48 digital mixing consoles equipped with an LX6464ES soundcard.
One of the main criteria for such an energetic and often punk-driven techno stage show of this type is that it has to be LOUD. However, as Sound Engineer Kalle Knecht will testify, this is no reason to sacrifice sound quality. To that end, a Camco-driven Nexo GEO T system was selected for the main PA, all run from an Innovason Sy48 digital console. A second Sy48 was deployed to handle monitors, and both consoles shared a DioCore (Innovason's EtherSound-enabled stagebox).

"The combination of Innovason, NEXO and Camco is pretty unbeatable when it comes to sound quality," stated Knecht. "What's more, thanks to Innovason's EtherSound networking capabilities, we were able to use an LX6464Es sound card from Digigram to record every show. I never realized that high quality digital multitrack recording could be so easy."

The most successful act of all time in their native Germany, Scooter has also enjoyed a huge international career with over 14-million record sales and in excess of 80 gold and platinum discs worldwide, plus countless music prizes and trophies.
ACTION ITEM:
For more information please visit www.innovason.com
Leave a Comment: