Rightway Audio Installs Second L-Acoustics System at Macao Cultural Center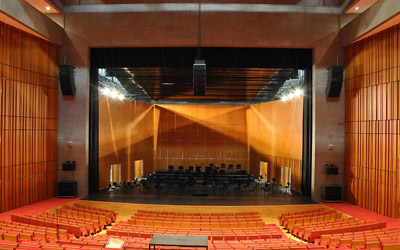 MACAO, China — Having renovated the small auditorium at the Macao Cultural Center in 2006 with an Arcs system, L-Acoustics' Chinese distributor, Rightway Audio, has now installed a new Kudo line source system into the venue's Grand Auditorium.
The two-story auditorium, which seats 1,114, is used mostly for classical and orchestral concerts. Rightway supplied the gear to systems integrator J K Brothers Audio Engineering Company.
In all, there are 18 Kudo cabinets configured in three equal hangs at left, center and right positions. These are supplemented with four SB28 subwoofers, which can be positioned as required, four 115XT HiQ monitors for front fill, four 112P self-powered stage monitors and four 8XT compact coaxials as rear surround. This system is driven by 10 LA8 and two LA4 amplified controllers.
"Following our audio renovation of the MCC's small auditorium, visiting international sound engineers as well as the MCC's audio team have appreciated the great sound of the L-Acoustics system and its ease and accuracy of setup, which saves them a lot of time," said Alan Wong, Rightway Audio's sales manager.
"Since then," Wong added, "the Macao Cultural Center has been planning another L-Acoustics system for their Grand Auditorium, and we won the tender with Kudo. The new LA4 and LA8 amplified controllers offer much more advanced control as well as offering new DSP presets."
For more information, please visit www.l-acoustics.com.
Leave a Comment: