Renkus-Heinz Demos Digitally Steerable IC LIVE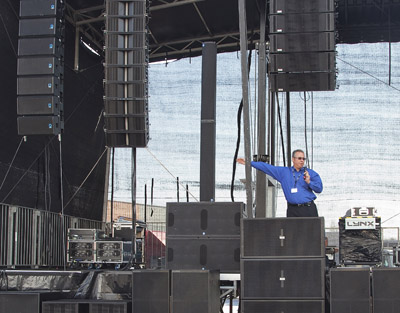 FOOTHILL RANCH, CA — Renkus-Heinz IC LIVE marked 30 years with a look ahead at Frankfurt Pro Light+Sound's Concert Sound Arena earlier this month — with three demos a day for its digitally beam steerable array.
The demos, marking the product's live European début, included one pair per side stacked on the outdoor stage, surrounded by other manufacturers' line array hangs.
"We had large crowds out there to hear the new system," said Margie Ulm, marketing manager. "The universal reaction was amazement at the quality and quantity of output from such a compact system. IC LIVE really showed that it can hold its own against much larger systems — and deliver clearer, purer sound."
A pair of dual stacked IC LIVE arrays with matching IC215S dual 15-inch bandpass subwoofers were demonstrated on the stage, while the other new Renkus-Heinz product being launched at Pro Light+Sound, the VERSYS VLX3 line array, was on show at the company's booth with German distributor Atlantic Audio.
IC LIVE brings Renkus-Heinz's ICONYX Digitally Steerable Array technology to live event production for the first time. IC LIVE arrays produce narrow vertical beams of 30°, 25° or 20°, steerable up or down by up to 30° at .01° resolution, with wide 150° horizontal dispersion. Nine instant-recall presets store beamwidths and aiming angles. Interlocking hardware allows fast set-up of the IC LIVE array and matching IC215S 2×15" subwoofer.
All five neodymium 6.5-inch woofers and three neodymium 1-inch exit compression drivers are individually powered and DSP controlled by a multi-channel DSP/amplifier. In addition to analog and AES/EBU inputs IC Live also features RHAON, the Renkus-Heinz Audio Operations Network, delivering control, monitoring and CobraNet digital audio over a single Ethernet connection.
For more information, please visit www.renkus-heinz.com.
Leave a Comment: