Pooch Van Druten Rocks it with Linkin Park and Adamson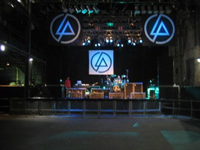 BERLIN — On April 29, Linkin Park gave a Berlin audience a preview of its upcoming European and North American tours. For the preview, Kenneth "Pooch" Van Druten, Linkin Park's FOH engineer, used Adamson Y-18s and T-21 Subs, with various Adamson Yaxis partners providing the required systems for the European dates. Jochen Sommer of Adamson assisted with the final system design, which featured eight Y10s and two T-21 Subs per side to cover the main floor plus a rear balcony measuring 9.85' in height and 6.5' in depth. The system was ground-stacked on 2.6'-high stage platforms. The stage right balcony, serving as the V.I.P. area, added 4' more, so two conventional 15-1/2" GAE speakers were used to cover the area.
The Adamson system, provided by Concert Sound U.K., used Lab.gruppen fP3400s and fP6400s for power and XTA DP226's for processing. Four Adamson M15s were used for stage monitoring. The small size of the stage did not allow for additional side fills boxes so one M15 per side was placed behind the Y10 stacks, pointing toward the stage. Monitor Engineer Kevin "Tater" McCarthy said, "It was so simple to work with the M15s on the stage because of their sheer power, sound and high gain before feedback."
Linkin Park's Project Revolution 2007 tour begins in Copenhagen on May 24 and will continue throughout Europe until the end of June. The North American tour begins on July 27 in California, finishing in Colorado on September 3.
For more information, please see www.adamsonproaudio.com.
Leave a Comment: