Lord of the Rings Comes to Life with MILO at Germany's Leipzig Arena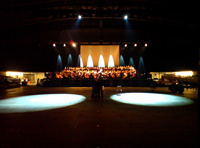 LEIPZIG, GERMANY — The orchestral production of "The Lord of the Rings Symphony" made its debut in Germany at the Arena Leipzig. The 7,000-seat venue hosted two sold-out shows, replete with an 86-member orchestra, four soloists and a choir of 130 voices.
The sound system, provided by Leipzig-based ProTech GmbH, was based around two main arrays of eight MILO curvilinear array loudspeakers and two MILO 120 curvilinear array loudspeakers each. Six M'elodie curvilinear array loudspeakers were used for frontfill, while two ground stacks of six M1D curvilinear array loudspeakers each covered sidefill duties.
Further back in the hall, another hang of eight M1D cabinets, along with two arrays of six M'elodie boxes, were utilized as delay speakers. Low frequencies were covered by six 700-HP subwoofers, stacked in pairs at the left, center and right of the stage. A pair of Galileo loudspeaker management systems controlled the system's timing and distribution. Onstage, a pair of MM-4 loudspeakers provided monitors for the orchestra's conductor.
"The Leipzig Arena is a majestic venue, but it's an acoustically challenging room, as there's quite a bit of glass and other reflective surfaces," notes ProTech managing director Thomas Gleim. "We were already familiar with the M1D and M'elodie boxes, but this was the first time we had used the MILO arrays."
"The Lord of the Rings Symphony" is a two-hour symphonic adaptation of the 12 hours of music composer Howard Shore wrote for the three movies made by director Peter Jackson.
For more information, visit www.meyersound.com.
Leave a Comment: