Imperial Festival Spices Up with Adamson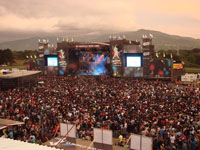 ALAJUELA, Costa Rica – For the Imperial Festival, La Florida wanted to add another brand to their large inventory of staging, lighting and audio equipment. After a great deal of discussions, Adamson's Latin-American distributors, La Florida, settled with Adamson, acquiring 16 Y18s, four Y10s, six T21 Subs and four Adamson Touring panels. Sound pressure and clarity were cited as the winning factors of the Y-Axis System.
The system will be featured at various large format festivals and events promoting La Florida's long list of products. The company's in-house technical department, which has been in the production business for more than 20 years, includes seven full time employees headed by Roy Hernandez Salas and System Techs Frank Luis Espinoza and Pablo Aguilera Mendez, who recently attended Adamson training with Latin American Technical Support Daniel Fernandez.
This year's Imperial Festival took place this May, with many high profile Latin performers and International names such as Enrique Inglesias, Duran Duran, Incubus, Seal and The Smashing Pumpkins. The Guacima Racetrack played host to the event, which attracts 25,000 visitors in a single day. A longtime Adamson partner, RSTV co-provided gear for the festival, and split sound design and system tech duties between Elias Arias and Virgilio Azofeifa of RSTV, and with Daniel Fernandez who flew in from Florida as Adamson tour support.
The Mains setup for the wide audience area had 16 Y18s flown per side, with an 8 Y18 with two Y10 underhand as the side PA, placed left and right of the main system. "We first thought of using SpekTrix for the front fill, but since the area to cover was long and the wind was so strong, we decided to use three stacks of 4 Y10s placed on some of the 30 ground stacked T-21 Subs along the front of the stage. The system design had a bit of complexity due to the different levels of the VIP areas and far VIP bleachers, therefore we used a speaker processor as a router for the master signals (left, right and subs) coming from the different consoles, so we could feed all the different zones," Fernandez concludes.
Smashing Pumpkins FOH John Lemon mixed on a Digico D5 console, while Duran Duran's mix was executed by their longtime FOH engineer Snake Newton on a Yamaha PM5D, an RSTV house console. Newton usually prefers a Digidesign Venue desk, which this time was residing at the monitor position on stage.
The Adamson system was powered by Lab.gruppen fP3400, 6400 and fP+7000 and 10000Qs. Nine XTA DP424 and 226s were used for processing.

ACTION ITEM:
For more information, please visit www.adamsonproaudio.com
Leave a Comment: