HK Audio Hardrocks Lisbon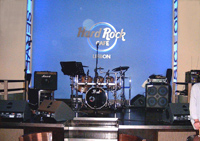 LISBON, PORTUGAL — The Hard Rock Café in Lisbon is located in the center of the city. The interior design is similar to that of others in the chain, with collector's items of rock history hanging on the walls, such as autographed guitars, gold and platinum albums and stage clothing, but while most Hard Rock Cafés have their sound and lighting equipment installed by an American company, the Lisbon affiliate decided to have the Portuguese HK Audio distributor ALRICA Lda install its sound system. The main installation consists of ConTour Series speakers — four CT 112 cabinets and four CT 118 subwoofers, supplemented by D.A.R.T stage monitors. The CT 112 is a speaker system that can be switched between passive or bi-amp mode. It uses a 12-inch neodymium speaker and BEM-based 60° x 40° Horn with 1.4-inch driver. It is paired with the front-loaded 1- x 18-inch CT 118 subwoofer.
Since the Lisbon Hard Rock Café hosts a great number of live concerts and parties, this system has been paired with D.A.R.T monitors, which integrate a preamp, controller, active crossover, two power amplifiers, a 12-inch speaker and a 1-inch CD horn in a low-profile monitor cabinet. D.A.R.T is optimized for use as a stage monitor.
For more information, visit www.hkaudio.com.
Leave a Comment: