Historic Olympia Theatre Takes Digital Leap with Soundcraft Vi6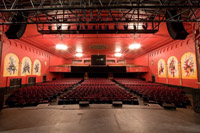 MONTREAL — Originally built in the late 1920s, Montreal's landmark Olympia Theatre recently underwent a renovation project and technical facilities update that simultaneously took the "grand dame" of the city's theatre scene both back in time and squarely into the 21st century. Mathieu Guilbault, who serves as front-of-house mixer for the theatre and codesigned the new system coordinated with local sound and lighting provider Kloda Focus to supply the venue with a new PA system, which now benefits from a Soundcraft Vi6 digital live sound console feeding Crown-powered JBL Vertec arrays.
The Soundcraft Vi6 digital live sound console features 32 on-surface faders and 64 mix channels routing to 35 output busses (32 group/aux/matrix busses, plus the main LCR busses) with 24 insert send/return pairs assignable to any of the input or output channels. The system comprises a compact control surface, a local rack that houses the SCore Live processing engine, and a stage box that connects to the local rack via Cat-5/7 cable.
Outputs from the Soundcraft Vi6 console connect digitally to a pair of dbx DriveRack 4800s that enable system delay, equalization and 8-in/16-out signal distribution to Crown I-Tech 4000 and XTi 1000 amplifiers powering the loudspeaker cabinets.
The flown line array comprises 16 compact JBL VERTEC VT4887 – eight per side – augmented by two pairs of VT4880 dual-18 subwoofers. Four JBL MS26 cabinets handle front-fills, powered by a single Crown XTi 1000. A rack of 10 Crown I-Tech 4000 amplifiers power the line arrays and side-fills. Harman Pro HiQnet™ software handles overall system control and monitoring
An analog Soundcraft MH3 40-channel/12-auxiliary console handles on-stage monitoring. Floor monitors include four JBL SRX712 and six JBL VRX915 wedges powered by Crown XTi 2000 and XTi 4000 amplifiers. Two JBL SRX725 cabinets are available for side-fills.
Olympia Theatre's building combines the modern with the classic and features retro chandeliers, carved wooden medallions and plaster-cast moldings. With two floors and a seating capacity of 1,370 patrons — up to 2,800 for standing audiences — Olympia Theatre hosts a wide variety of musical and related events ranging from hip-hop, electronic, punk and rock to gospel choirs, jazz, plays and conferences.
"We are very happy with the new sound system," Guilbault enthuses. "For a digital console, the Soundcraft Vi6 has a shallow learning curve and is very easy to use, which is a great advantage for visiting engineers," offers Guilbault. "The console's EQ and dynamics sections also sound great. I'm very happy with the choice we made."
For more information, please see www.soundcraft.com.
Leave a Comment: