Gearhouse SA Supplies Sound for Coke Zero Festival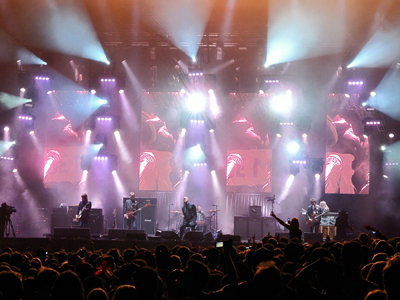 JOHANNESBURG — Gearhouse South Africa supplied sound for the 2009 Coca Cola Zero festival at Riversands Farm and the Lourensford Wine Estate in Cape Town. Oasis and Snow Patrol headlined the event, which also featured Panic at the Disco and six Africa-based bands — The Dirty Skirts, Zebra & Giraffe, Casette, Foto na dans, aKing and One Day Remains. Gearhouse Audio headed by Dave Tudor designed the VDOSC sound system, with 15 flown elements plus two dvDOSC downfills per side, 32 ground stacked SB28 subs and a row of dv's along the lip of the stage for front fill. Two delays per side each comprised eight flown VDOSC speakers.
"We built on last year's very successful design and adapted it to suit the new venue in Johannesburg" Tudor said.
In advance, the production crew contacted all the bands for their riders and put together the FOH and monitor specs based on these requirements, ensuring everyone's wish list was satisfied with effects, outboards and all imaginable sonic facilities. "Thorough and proper advance planning for a festival event like this helps it all go very smoothly – and that's exactly what happened," said Tudor.
The FOH console was a 56 channel Amek Recall, specifically requested by Oasis engineer Dan Lewis, who wanted some analog warmth for his loud rock band sound. Gearhouse's Recall is quite rare in that it has Rupert Neve modules on all the EQ and preamp channels.
For Snow Patrol, Gearhouse supplied a DigiDesign D-Show Venue, and for Panic at The Disco and all the other bands, the third FOH console was a Yamaha PM5D. GHSA's FOH systems engineer was Jako de Wit.
Onstage, there were also three consoles — a Midas XL8 for Oasis engineer Nahuel Gutierrez, another PM5D for Panic and all the openers, and Snow Patrol brought their own PM5D.
There were two separate monitor systems, both from Gearhouse. A mix of d&b M2 and M4 wedges were exclusively for Oasis, while L-Acoustics Hi-Q 115 wedges served all the others. Monitor world was coordinated and overseen on site by Revil Baselga.
This is the fourth year that GHSA has supplied the Coca Cola Festival for promoters Big Concerts.
For more information, please visit www.gearhouse.co.za.
Leave a Comment: