Daddy Cool Rocks Berlin at Start of European Tour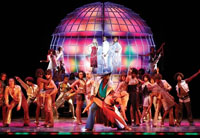 BERLIN, GERMANY — The musical Daddy Cool kicked off its European tour with a 10-week run in Berlin, which opened on April 26 in the show's 2000-seat big top tent in central Berlin. Richard Brooker designed the sound, supported by associate sound designer Tom Marshall, with the original system for the London production adapted to the requirements of the tour. Speed of installation and recallability are key elements of the show's sound design, with Brooker's design using a combined Cadac analog and digital approach at the heart of the system — in the form of an 82-input J-Type Live Production Console and Digital Series Stage Rack, equipped with D16 digital mix matrices and M16 remote controlled microphone amplifiers. The majority of the design is based on the London show, with the exception of the L-ACOUSTICS V-DOSC line array, which replaces the Opus Audio PA system. A Robert Mackintosh and Frank Farian production, Daddy Cool is directed by Andy Goldberg, with music from Boney M and Frank Farian Productions.
Brooker stated, "This has been an entertaining show to work on from the outset, with the tour presenting us with some interesting new dimensions to cater for. The stage is set just over half way back in the 70-meter-diameter tent, giving us around half of the tent as the auditorium area with one continuous rake of seating. We had just 10 days to load in before the first previews here in Berlin."
Brooker went on to say, "The only thing we changed on the Cadac rig was to rebuild the Cadac band rack for touring, with the rest of the kit identical to the London show. I am absolutely delighted with the way it has all worked and how it sounds."
The current incarnation of the show uses V-DOSC speakers rigged eight per side, with three dV-DOSC cabinets underhung as the near fill. The center cluster consists of 9 dV-DOSC speakers, with SB218 subs. The picture is completed with the L-ACOUSTICS MTD112 surround sound system, plus Tannoy S300s used as front fills.
For more information visit www.cadac-sound.com.
Leave a Comment: