Britannia Row Gears Up with Third Midas XL8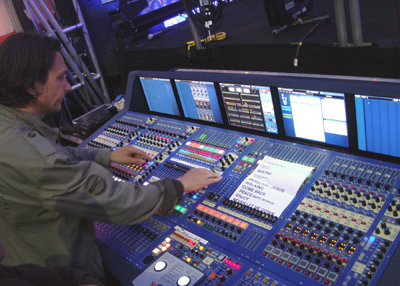 TEL AVIV — Britannia Row Productions acquired a third Midas XL8 Live Performance System so that it would have two on hand to support Depeche Mode's Tour of the Universe, which is about to get underway in Israel. The first Midas XL8 continues to support the world tour for Oasis.
"Oasis went into rehearsals for their world tour last summer and will have had a Midas XL8 out on tour on monitors for nearly 15 months by the time they finish in October 2009," said Britannia Row's Mike Lowe. "That console, specified by their monitor engineer Nahuel Gutierrez, is now on the South American leg of the tour.
"Another Midas XL8 went into in SIR studios in New York with engineer Sarne Thorogood for Depeche Mode monitor rehearsals," Lowe added. "Anthony King, the band's front of house engineer, also specified a Midas XL8, and as the Depeche Mode World tour will go into 2010, we purchased our third XL8.
"After a warm up show in Los Angeles, more band rehearsals in London and production rehearsals in Luxembourg, both consoles ship to Tel Aviv for the first concert of the world tour on 10th May." In addition to the three XL8s, Britannia Row also owns six Midas PRO6 Live Audio Systems.
For more information, please visit www.midasconsoles.com.
Leave a Comment: