Alcons Gets Boost from ProLight + Sound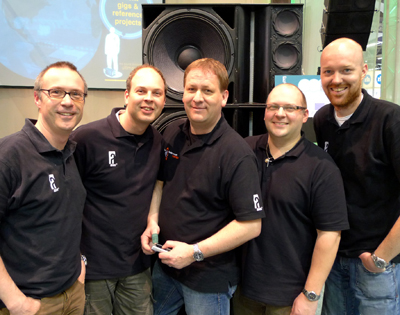 FRANKFURT, Germany — If Alcons Audio had any qualms about exhibiting at ProLight + Sound in the midst of an economic downturn, they have since been dashed by what the company is now calling its "most successful PL&S show" yet.
"With our stand literally packed with Alcons users, new contacts and interested visitors three days out of four, Alcons enjoyed again significantly increased interest," said Tom Back, managing director. "Drawing-up the balance sheet, with new distributors, a portfolio of projects and leads to follow-up, it was without doubt our best show so far."
The company said its Modular Stacked Ribbon Array design study was a focal point for the booth. The MSRA design study gave a look at the company's LR7 micro pro-ribbon line array, the latest and smallest member of Alcons' pro-ribbon line-arrays, which is well-suited for AV projects. The LR7 was accompanied by an LR7B bass extension.
Alcons also featured the CR1 AV/Digital Cinema three-way sound system, which is housed in a 7-inch MDF enclosure and is designed to provide medium output AV sound reproduction for cinemas, boardrooms and more. On the stand it was accompanied by the CB181sl subwoofer.
The company provided low-SPL demos with VR8 monitors and BF151 subwoofers, and hosted its annual Pro-Ribbon Partner dinner for Alcons rental-users, dealers, and distributors.
For more information, please visit www.alconsaudio.com and www.theribbonnetwork.net.
Leave a Comment: