VUE Provides Audio Support for BottleRock Festival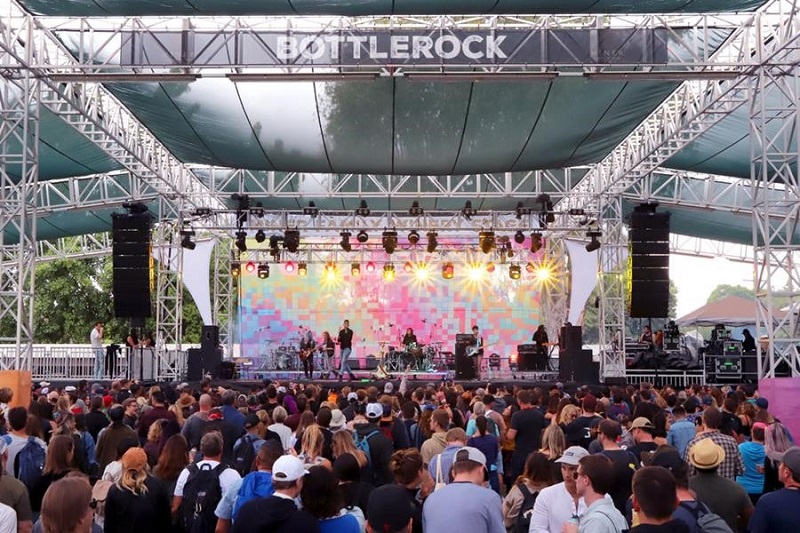 NAPA VALLEY, CA – VUE Audiotechnik supplied a complete PA system for the sixth annual BottleRock three-day music festival held at the Napa Valley Expo Center.
More details from VUE Audio (www.vueaudio.com):
Now in its sixth year, BottleRock is a three-day music festival that hosts some of the most popular touring musicians at the Napa Valley Expo Center in the heart of California's Wine Country. In addition to three days of music, the festival features gourmet food vendors from many of the region's most celebrated restaurants and a culinary stage with numerous special guests. Held over Memorial Day weekend from May 25 – 27, VUE was back for their fourth round with the festival. Delicate Productions once again provided full production services for the event, including a complete PA from VUE Audiotechnik on the Miner Family Winery stage.
The main FOH system consisted of two CST arrays, each with eight large-format al-12 elements; while 16 hs-221 dual 21-inch Infrasonic ACM subwoofers were positioned along the front of the stage in five groups of three units each. Sophisticated DSP from the integrated VUEDrive electronics allowed the complete array to form a virtual arc, which maximized low-frequency consistency throughout the listening area. Rounding out the system were VUE hm-212 and hm-112 stage monitors to make a 10 mix stage full back. The drum fill consisted of hs-25s and hm-112s, while h-15 two-way boxes sat atop hs-28 subwoofers to deliver side fill. The stage's VIP section was complemented with h-12's on sticks. A VENUE Profile console served FOH duty, while a Yamaha PM5D handled monitors.
"This was hands-down the highest-profile lineup of any BottleRock yet" explained Delicate's President, Jason Alt. "And the al-12s consistently impressed visiting engineers with their almost limitless headroom, sonic quality and overall punch."
Performers on the Miner Family Winery stage this year included: David Luning, Caitlyn Smith, Jukebox the Ghost, NoMBe, Nahko and Medicine for the People, Bomba Estereo, St. Paul and the Broken Bones, Dhani Harrison, The Ghost of Paul Revere, Jacob Banks, Lukas Nelson and the Promise of the Real, Natalia LaFourcade, Mt. Joy, Allan Rayman, Watsky, Allen Stone, The Motet, Napa Valley Youth Symphony, Tommy Odetto, Ethan Tucker, and The Silverado Pickups.
Leave a Comment: