Sweetwater Powers State-of-the-Art Music Venue, The Clyde Theatre, in Fort Wayne, IN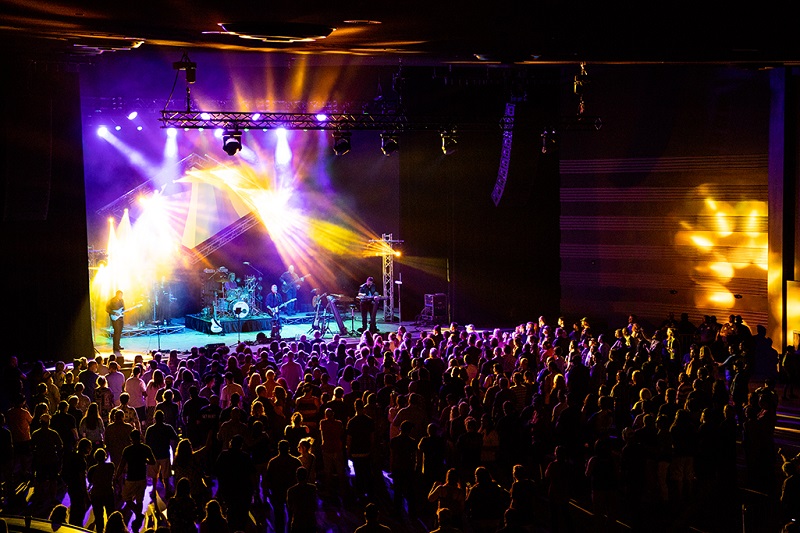 FORT WAYNE, IN — Sweetwater announced the completion of a major project, renovating Fort Wayne's historic art-deco Clyde Theatre into a state-of-the-art music/performance/arts venue, this spring. The multi-million-dollar renovation project was funded by private donors led by Chuck and Lisa Surack along with contributions by local and regional economic development organizations. The venue's grand re-opening events included a free concert featuring Pink Droyd, a Pink Floyd cover band, on May 6 (pictured above).
More details from Sweetwater (www.sweetwater.com):
"The renovated Clyde Theatre in every aspect bears the stamp of Sweetwater excellence," said Chuck Surack, president and founder of Sweetwater. "An amazing sound system, awesome acoustics, luxury dressing rooms and many other artist amenities, plus top-tier lighting and staging, make this a unique performance space and a preferred destination for both musicians and music lovers. We're excited to have created a venue that optimizes the concert experience, in every category, not the least of which will be Sweetwater's commitment to world-class customer service."
The theater, which was built as the region's premier movie house in 1951, had stood vacant since the early 1990s. It was purchased in 2012, and in 2017, ground was broken to recreate the space as a cutting-edge performance and arts venue for the 21st century. Sweetwater provided the technology specifications and fulfilled the venue's massive gear requirements. Acoustic and design expertise came from Russ Berger Design Group.
Funding was provided by Chuck and Lisa Surack with incentives from local and regional economic development organizations.
Surack added, "The Clyde Theatre was a shining light in the Fort Wayne area, and it has been a real thrill to be part of bringing this historic and gorgeous facility back to prominence as a beautiful, world-class venue for music. We left no stone unturned to ensure a comfortable, safe environment for those attending concerts and other events."
The venue consists of several spaces. The 21,000 square-foot main performance hall has had all of its fixed seats removed, and will be utilized as a 2,150 capacity, general admission, multi-functional concert hall and special events center. Chairs can be brought in to seat 830 in theater-style.
Additional features include a 10,400 square-foot lobby —with the main entry, an art gallery, and a box office — plus a second-level VIP Gallery with box seating and a second art gallery. Artist amenities include 7,000 square feet of dressing rooms and hospitality, as well as backstage loading docks. New HVAC, electrical, plumbing, acoustical plaster, roof, and offices were also part of the renovation.
The new Clyde Theatre features state-of-the-art sound and lighting systems, built on JBL loudspeakers and subwoofers, comprising dual left/right line arrays featuring 20 VTX A12 Next Generation Dual 12" Line Array Loudspeakers, bolstered by eight VTX G28 Dual 18" Subwoofers and supplemented with seven VT4886 Subcompact 3-way High Directivity Line Array Elements as front fill, and five F12 biamplified 2-Way Systems as delay loudspeakers. The system is driven by 18 Crown I-Tech 4x3500HD and I-Tech 12000 HD power amplifiers. Stage monitoring is also via JBL, with eight VTX M22 dual-12" and two VTXF35/95 High Performance Dual 15" stage monitors, augmented with a VTX F18S Compact Subwoofer.
The system utilizes two of Avid's Venue S6L-192 consoles, one for front-of-house, the other for monitor mixing. Signal routing is handled by a Venue Stage 64, with 64 analog inputs, 24 analog outputs, and eight digital outputs. Additional processing power is provided by a Waves Extreme server.
The Clyde Theatre's mic locker is fully stocked with an array of Shure dynamic microphones, including multiple SM57, SM58, Beta57a, Beta58a, Beta181, Beta87a, Beta52a, and Beta98AMP mics. Shure condenser mics include multiple KSM141, KSM32, and KSM44a. Vocalists and performers can also choose to use up to eight Shure Axient wireless mic systems and eight Shure P10T in-ear wireless systems. Telefunken M80 and Drum Mic Packs, and Sennheiser MD421 and e906 mics round out the selection, augmented with Radial JDI, J48, and JDI Stereo direct boxes. A full complement of K&M microphone stands support the extensive mic list.
Stage lighting is handled by a comprehensive system built on Eurotruss and Stage Maker trussing, with Martin, MA Lighting, and Chauvet fixtures.
Clyde Theatre Technical Director/Production Manager, Shawn Dealey, said, "We designed and equipped the Clyde Theatre to be able to handle anything that might come through the doors, from major national touring artists to smaller, more intimate local performances. The JBL/Avid sound system is powerful, clean, and clear, and envelops the entire venue, while the lighting rig provides for versatile stage layout and presentation. With our in-house mic selection, and stage and wireless in-ear monitoring, we can comfortably accommodate any artist needs and requests."
The newly renovated Clyde Theatre opened its doors in May, and is already booked with a robust schedule of live concerts, comedy acts, and art-gallery exhibitions. The Clyde is also available to host private and public events, including weddings, receptions, corporate events, non-profit fundraisers, and more.
Sweetwater President and Founder, Chuck Surack concludes, "The Clyde will play host to a wide variety of artists and events – something for everyone – making it a true cultural asset to the region."
Leave a Comment: