PL+S and NAB Welcome Big Crowds to Frankfurt and Las Vegas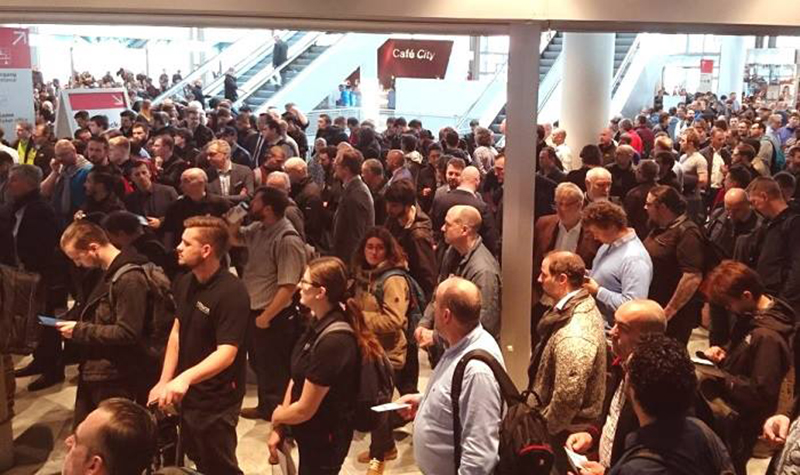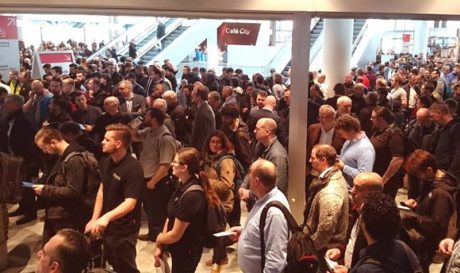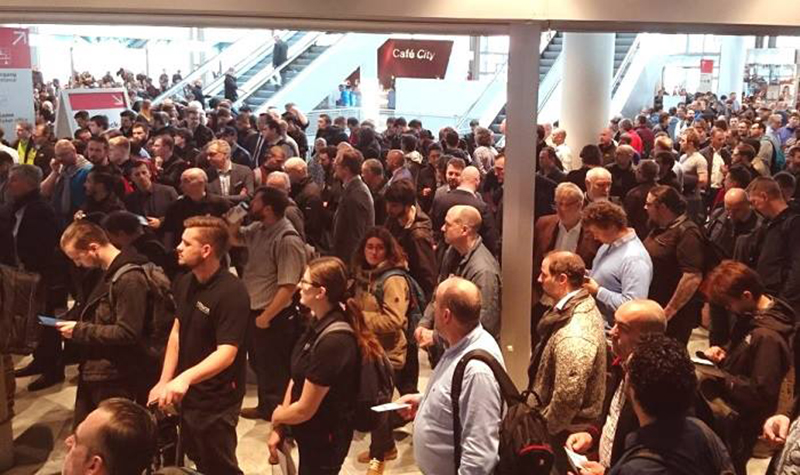 FRANKFURT, Germany and LAS VEGAS – The 2018 NAB Show exhibition and Prolight+Sound 2018 (pictured here) are both open this week, drawing big crowds to both the Las Vegas Convention Center and Messe Frankfurt complex in Germany with a wide array of products ranging from broadcasting technologies and video to musical instruments and lighting products. The exhibitions are open from April 9-12 (NAB) and April 10-13 (PL+S).
Here are some of the product highlights from each of the shows:
PROLIGHT+SOUND 2018
Prolight+Sound, held in Frankfurt, Germany from April 10-13 got off to a busy start, despite threatened strikes at the airport and with the city's public transportation system.
Consoles Draw Center Stage
Many of the live sound-oriented pro audio products shown at NAB were also on hand at the Messefrankfurt exhibit halls — such as the expansion of Avid's (avid.com) S6L digital console platform and Lawo's (lawo.com) third generation of its mc² 56, which is available in frames from 16 to 112 faders and borrows from the feature set of its flagship mc² 96 mixer.
Yamaha (yamahaproaudio.com) unveiled Dante-equipped Rio3224-D2 and Rio1608-D2 I/O rack units for its Rivage PM Series (pictured left), including the new Rivage PM7 digital mixing system, but also usable with its smaller CL and QL consoles.
Allen & Heath (allen-heath.com) unveiled new PRIME I/O modules (pictured right) for its flagship dLive mixing system, with an Input Mic Pre module and a Line Output module. Designed to be fitted in the dLive DX32 expander rack, PRIME can be used easily in conjunction with existing I/O and will harness the full potential of the dLive's 96kHz XCVI FPGA core.
Cadac (cadac-sound.com) marks its 50th anniversary with an array of new products including the CDC five and CDC seven-s consoles (pictured at left), a V. 5 CDC OS software update, CDC I/O 4016 stagebox and MC optical bridges, NetCOMMS control software and an iPad app for CDC remote operation/mixing.
Announced at both NAB and Prolight+Sound, Stage Tec (stagetec.com) became the latest manufacturer to join the Ravenna partnership, to offer a wider spectrum of IP solutions to its users. Combined with last year's RIF67 Router Interface launch, Stage Tec also offers IP audio transport via AES67.
On The Speaker Front
The D.A.S. Audio (dasaudio.com) new Vantec-20A Curved Source Line Array can be flown in a compact array (up to five) or used alone on a speaker stand for mid-size reinforcement and installs. The 1,500W system supports DAScontrol for quick array setups and easy alignment; options include rigging and several subwoofer choices.
d&b audiotechnik (dbaudio.com) had the official launch of its advanced SL series line array system, which featured in the March issue of FRONT of HOUSE on page 38.
Following its popular Butterfly design, Outline's (outline.it) new "Superfly" line-source enclosure offers high performance in a system of compact dimensions. The dual-10 Superfly integrates perfectly within Outline's existing portfolio and can be readily paired with any of its subwoofer designs.
Powersoft (powersoft-audio.com) unveiled its M-force 301p01, which puts the punch of a 30-inch moving magnet transducer with updated features to simplify the workload of OEM partners who wish to integrate the technology into their products.
And in keeping with the growing trend towards immersive 3D audio, KLANG:technologies (klang.com) announced KOS 3, a major upgrade to its operating system, with new features and improved workflows.
NAB 2018
The NAB show once again welcomed close to 100,000 visitors from around the world to view the latest advances in broadcasting-focused AV products such as Blackmagic Design's $1,295 Pocket Cinema Camera 4K, Grass Valley's GV K-Frame production switcher.
And while pro audio wasn't the main focus, with 1,700+ exhibitors at the show, there were still plenty of audio production advances in evidence at the show. A sampling: Lawo's mc²56 console; the latest expansion in Avid's S6L live sound mixing platform; Allen & Heath's SQ console upgrades and Yamaha's Dante-equipped Rio3224-D2 and Rio1608-D2 I/O rack units for their pro console lineup.
Also at NAB are purveyors of various production essentials including Klang:technologies' Klang 3D in-ear mixing systems recently updated with the KOS 3 operating system, XTA's MC2 Delta 120 and DNA 120 amps, Whirlwind's PLR-MC21/22 chain hoist controllers and SKB's iSeries fly racks.
More To Come
With both shows still underway, we've only touched on a few of the highlights, and will present more hot new products at fohonline.com in the days to come and in an expanded report in the May issue of FRONT of HOUSE.
Leave a Comment: