Wireworks MCAT5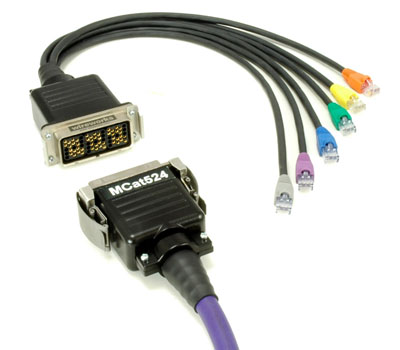 MCAT5 is designed to simplify network cabling by eliminating individual cable runs; reducing the wear and tear on equipment by utilizing a sturdy multipin connector instead of the standard RJ45 connector and creating a rugged point-to-point secure connection.
MCAT5 tails are configured to support six channels of 10/100/1000BASE-T signals and equipment requiring four pairs per RJ45. Tails are also available to support 12 channels of 10/100BASE-T utilizing cable sharing technology.
Constructed of heavy-duty CAT5e rated cable with a double-jacketed shielded cable design, MCAT5 is designed for the rigors of live production, touring, studio and stage. With a small overall diameter of only 0.57 in., yet only weighing 14 lbs. per 100 ft., MCAT5 is designed to be easy to work with and transport. Cable sections are available in lengths up to 250 ft.
Tails are color-coded for easy identification and terminated with either RJ45 or etherCON connectors. Rack-mounted MCAT5 fanouts can be permanently attached to equipment eliminating wear and tear, transferring the strain from equipment RJ45 connectors to Wireworks G-Block Multipin Connector, which is designed to eliminate cross-threading, locking ring damage and the possibility of going "out-of-round."
G-Blocks brass contacts are resilient to breakage and bending. Gold-plated contacts improve signal transmission.
For more information, please visit www.wireworks.com.
Leave a Comment: