VMB TL-A220 Line Array Lifter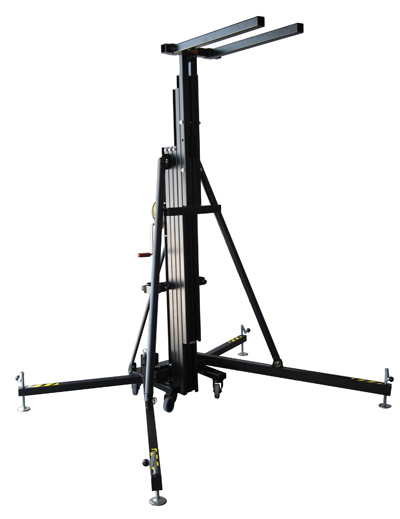 VMB's TL-A220 Line Array lifter, a smaller, more compact version of their TL-A320, can still lift 220kg of P.A. gear to a height of 5.5 meters. The lift is specifically designed for lifting line arrays and is well-suited for quick line array setups.
The P.A. is loaded directly on to the forks of the lift, cranked up, and in a matter of minutes the system is suspended from the lift and ready to play. The lift has a transport weight of 95kg and is 1.7 meters in height, making it easy to transport.
The TL-A220 also incorporates VMB's ALS (Auto Lock Security) system, now standard in most of the company's lifts. The ALS automatically locks the lift in place, releases all the pressure from the cable and guarantees the load will not fall.
VMB notes that the TL-A220 has been designed to meet the need to curve line arrays and allow for a distance between the body of the lift and the line array. The TL-A220 can lift the 220kg from half a meter out, giving the user the chance to curve their array without compromising the 220kg safe working load.
The lift also comes with lateral support and rear support bars as standard, which provide further stability. The outriggers have also been carefully designed to add support and accommodate Sub Bass cabinets at ground level below the flown top cabinets.
The TL-A220, like all VMB lifts, is BGV-C1 certified, and the product is now shipping.
For more information, please visit www.vmb.es.
Leave a Comment: