Shure PSM 900 PM System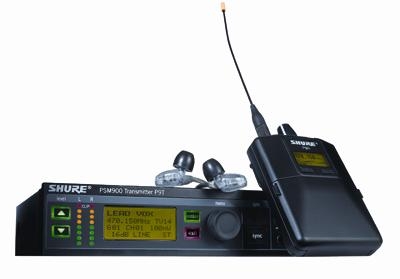 The PSM 900 Wireless Personal Monitor System from Shure, previewed at Winter NAMM 2010, has been designed to enhance both audio quality and RF performance for use with events, installations and tours.
The PSM 900 system includes an all-metal, slim-profile wireless bodypack receiver (P9R) and a half-rack single wireless transmitter (P9T). The PSM 900 also will be available with Shure's SE425 Sound Isolating Earphones, with enhanced sound signatures and dual speaker technology in a compact, lightweight design.
Unlike earlier SE models, the SE425 features a unique, detachable cable and formable wire at the earpiece for accurate sound and secure fit.
MSRP-priced at $1,650 (without earphones) or $1,800 (with SE425 earphones), the PSM 900 is expected to ship in early- to mid-2010. The systems will be available with and without Sound Isolating Earphones. The P9R wireless transmitter and P9T wireless bodypack are available as separate components and priced at $676 and $974, respectively.
For more information, please visit www.shure.com.
Leave a Comment: