Sensaphonics dB Check Pro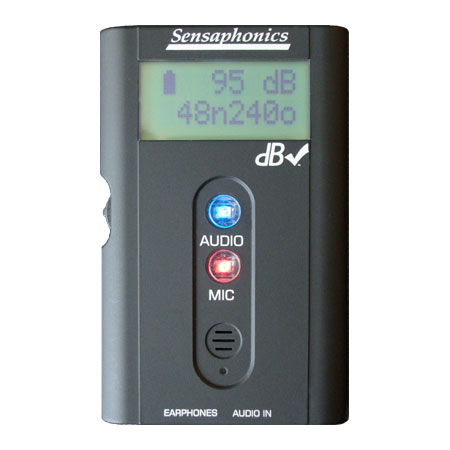 Sensaphonics introduced its new dB Check Pro IEM/headphone sound level analyzer at NAMM 2019.
More details from Sensaphonics (www.sensaphonics.com):
At NAMM 2019, Sensaphonics, the pro audio leader in monitoring technology for healthy hearing, introduced dB Check Pro, the only accurate sound level analyzer for in-ear monitors and headphones. dB Check Pro displays accurate SPL levels and safe exposure time while wearing earphones or headphones, answering the key question, "How loud is it in there?"
"Until now, there was no accurate way to know how loud you were listening to in-ear monitors or studio headphones," says Sensaphonics President and audiologist, Dr. Michael Santucci. "dB Check Pro changes all that. It's like a speedometer for your ears, showing actual levels in real time, so you can make an informed choice of how loud to listen."
dB Check Pro (U.S. patent #8,218,784) is programmed with the specs from most popular IEMs and headphones. Just plug it in between the sound source and earphones, select the model being used from its on-board library, and play. dB Check Pro shows A-weighted SPL, plus safe exposure time at that level under both NIOSH and OSHA guidelines. It also functions as a basic sound level meter, with an on-board microphone for measuring ambient room levels. Power is supplied by a USB-rechargeable lithium-ion battery.
"At Sensaphonics, our mission is to preserve the hearing of the entire music industry, and dB Check Pro is a big step forward toward that goal," says Dr. Santucci. "For our industry, which requires good hearing, yet is built around a culture of high volume, dB Check Pro is literally a career saver. Every tour, every venue, every sound engineer, and every musician should have one."
Sensaphonics dB Check Pro made a "soft opening" debut at the NAMM Show, and is scheduled to ship by the end of Q1 2019 – just in time for touring season. Dealer inquiries are welcome. For more information, visit www.sensaphonics.com/dbcheckpro.
Leave a Comment: