EAW KF740 3-Way Line Array Loudspeaker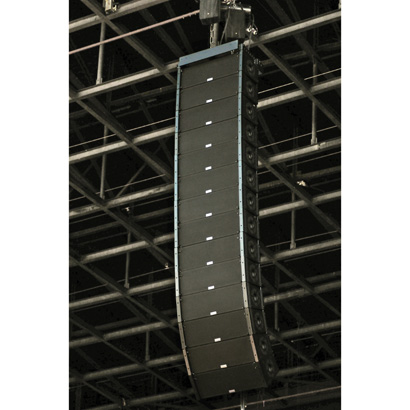 EAW's KF740 three-way full range line array loudspeaker is a high-output, lightweight and compact speaker module designed for touring and fixed installations. Each module contains two HF compression drivers with 2.5-inch voice coils and two 8-inch MF transducers with 3-inch coils, all of which are integrated into a single horn that occupies the entire face of the enclosure.
This allows for consistent 90-degree pattern control, even at frequencies down to 160Hz, as the MF frequencies are transitioned to a spaced array of four 10-inch LF transducers with 2.5-inch voice coils. Two of the LF transducers are mounted within the horn and two are side-mounted, providing as much as 18dB of off-axis rejection. EAW Focusing, as provided by EAW's UX8800 DSP, transitions from one system subsection to another. Also, all magnet structures within the KF740 utilize neodymium magnets. The units measure 17.56" L x 40.1" W x 13" H and weigh 107.2 lbs.
For more information, please visit www.eaw.com.
Leave a Comment: