Blue Microphones en-Core 100i Live Instrument Microphone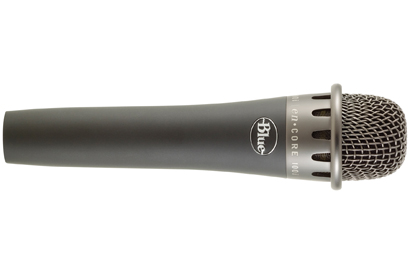 Blue Microphones has expanded their en-Core live stage microphone series with the addition of the en-Core 100i. It is designed with a wider and flatter frequency response to capture a variety of instruments and a tighter polar pattern to reduce off-axis noise.
The mic is built around Blue's proprietary dynamic capsule with a custom-designed diaphragm and coil windings that are matched to a tuned acoustic circuit, custom-built transformer for low noise, and high-pass filter to reduce stage rumble. These matched components provide an accurate and consistent sound even at high volume levels on stage.
While sporting a smaller grille for easy placement in tight spaces, the 100i shares the same road-worthy build as the en-Core 100 and 200, with a reinforced guard ring to protect the capsule, heavy cast zinc barrel for strength, and electroplated and hardened paint finishes for scratch resistance. Small side vents add to the unique look of the en-Core 100i while reducing resonances inside the capsule chamber and aiding in low frequency response.
The en-Core 100i will be available in February 2010 for $89 MSRP at authorized Blue Microphone retailers.
For more information, please visit www.bluemic.com.
Leave a Comment: