Alcons BRK5LR7 "Line-array on a Stick"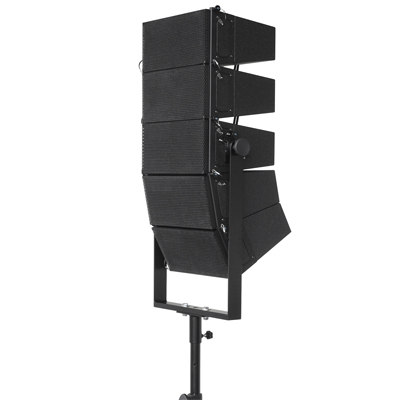 A new swivel bracket extends the flexibility of Alcons LR7 micro pro-ribbon line-array system. With its new swivel yoke, up to five LR7 cabinets in stand-configuration and up to seven LR7 cabinets in flown configuration can be stand- or truss-mounted with the new BRK5LR7 unit.
Full curving functionality is maintained, allowing for a pole-mounted full-sized line-array system. Both the five unit and seven unit configurations can be connected to one single ALC amplifier channel for an efficient system layout.
The yoke is connected to the middle cabinet with two connecting plates on the side of the cabinet, secured with two quick-release pins each. The connecting plates are attached to the yoke with conical joints, clamped by unobtrusive knobs. As the stand-fitted array always moves within its center of gravity range, it is easy to setup and adjust the array.
The bracket has been certified with up to seven cabinets under a safety rating of 10:1 and all within a standard tripod stand's load limit. The bracket can be fitted with a truss clamp, TV-spigot or stand-mount adapter. All additional mounting peripherals can be connected with M10 bolt/nut combination in the three-hole layout of the bracket
For more information, please visit www.alconsaudio.com.
Leave a Comment: