Backlines are Booming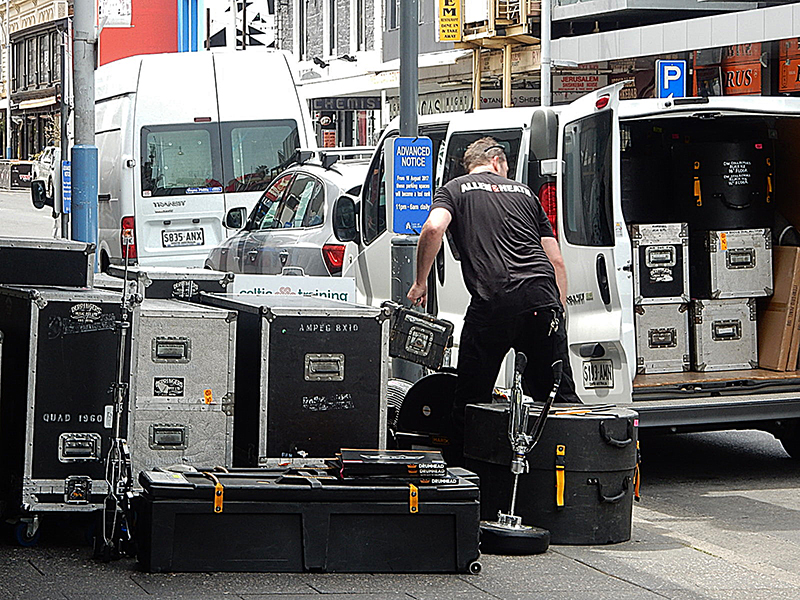 Once upon a time, the stage backline was a few Fender or Marshall (or Sunn or Ampeg) guitar and bass amps coupled with a relatively generic drum kit and maybe a Fender Rhodes suitcase. Toss in some mic stands and a few timbales for seasoning, and most bands were ready to go. After all, the tour was just what you did in between albums, right? Everything you really needed was waiting for you back in the studio.
Now, the live show has to be perfect — and then some. Audiences are expecting the equivalent of a studio-grade performance on stage. The sound systems can now give them that — every rider-ready rig out there qualifies as hi-fi, as do an increasing number of others, all driven by the need to make the live show sparkle sonically. That dynamic has also affected what constitutes the typical backline these days, too.
‡‡         Getting More Esoteric All the Time
"It's definitely been getting more esoteric," says Bryan Akers, owner of the Atlanta Backline Co., which has been outfitting touring bands from the region since 2005. "They want the interesting amps, the Kemper Profilers, and they want the really esoteric DJ gear, some of which is pretty hard to find."
In S.I.R.'s Chicago location, office manager Joey Duchscher has also seen the Kemper amps come to the fore, as guitarists try and wean themselves away from the a maze of foot pedals and pedal boards in order to streamline their stage presence. "A decade ago, the Line 6 and the Pods came along, and that began to happen, but it didn't last," she says. "Now, that same idea is back with the modeling amplifiers. It's about making it look cleaner onstage and making it easier to just play." If they don't go the modeling-amp route, adds Akers, "then they're asking for small, single-speaker amps, like a '65 Deluxe Reverb or an AC-15."
That dynamic has affected keyboards as well. Akers says analog synths, especially those made by NORD, have seen a resurgence. Duchscher agrees and adds that it's part of a trend that's seen keyboards move away from being sequencers, with their players acting almost as much as engineers and programmers as musicians. Instead, bands are moving towards integrating prerecorded tracks into their shows. Along with fattening out the live sound, that also lets musicians go back to being musicians. "They're playing the synths now, not just running the sequencers," she says. "They're going for tone, and that's increasing demand for the analog keyboards."
‡‡         Going For A Spin
The DJ market has also become a staple of the backline business. "It's massive," says Duchscher, citing significantly increased demand for turntables, touring versions of Pioneer's CDJ disc player and Serato battle mixers. Akers says Atlanta Backline has acquired a "mountain" of DJ gear, as digital systems throw off rapid-fire upgrades and as DJs move between bands, seeking sonic and performance differentiation with each new gig. "Backline as a business has become more critical about predicting the equipment trends ahead of the curve," he says, "and nowhere is that harder to do than with DJs."
In fact, backline managers say, NAMM shows have become the key resource for spotting and anticipating trends before the requests for new gear begin pouring in from customers. "I've been going to Winter NAMM since 2007, and we notice that as soon as the show ends, we start getting updates on riders for new equipment that someone saw or heard about at the show," says Akers. "They've got to have the very latest things."
‡‡         Have A Seat
As abstruse as some of that gear might be, Akers says they also get oddly specific requests for furniture to accompany the instruments and amps. "They want a DJ table that's exactly 27.5 inches off the floor, or two wooden straight-backed chairs with no arms and a cushion on one and no cushion on the other," he recalls. "We also get requests for rugs and carpets that have to be just this color and just this size. They can be incredibly specific."
He speculates that as bands at all tiers of the industry are spending more time in rehearsal studios honing ever-higher production values, this kind of specificity around the accouterments of the production gets as refined as the instruments themselves do. "After three weeks rehearsing every day, the drummer finally knows just what fan he wants, at exactly what height, and that's the table he needs for it," he explains. "It has to be perfect."
As far as Akers is concerned, a chair is just another part of the backline, to be rented out like everything else, once they find exactly what the client is looking for. Some of those obsessive searches turn up things that stick around, like the chair they found for R&B/soul pedal steel player Robert Randolph or the chair they keep for Tony Bennett's guitarist, Gray Sargent.
And backline providers have been going through the wringer over RF reallocation just as their SR counterparts have, piling up new wireless microphone and instrument systems this year after the 600-MHz range was sold off to mobile-wireless companies. "We just sold off 30 channels of [600 MHz] IEM and mics outside the U.S., where their use is still legal," says Duchscher.
As the backline becomes more complicated, there's somewhat more interaction between backline providers and sound-reinforcement companies. In some cases, the backline providers will act as subcontractors to P.A. companies, allowing the latter to provide a seamless one-stop level of service to touring artists whose toolkits are bigger, more diverse and more complicated than ever before.
And like P.A. systems, backline equipment is now going regularly into venues that once were esoteric themselves, such as the Sixthman sea cruises that Atlanta Backline supplies. "It's not just concerts anymore," he says. "There are way more live events taking place, and all of them want live music. It's good for us and for the P.A. companies."
Pictured: Providing backline remains a substantial — and growing — part of the industry. Photo by Michael Coghlan/Flicker
Leave a Comment: