And the Winner Is…The CMA Touring Awards
It's awards season, and that's not just for the Grammys, the Oscars and the Emmys. Late January saw the Parnelli Awards, which recognize excellence in the touring business nationally, while the TEC Awards, which now share a venue with the Parnellis at the Winter NAMM Show, give similar props to those on the terrestrial side of music production. Both awards programs include honors with a heavy technology emphasis, with the Parnellis lauding "indispensable technologies" in the areas of audio, video, lighting and staging, while the TEC Awards go more granular and ecumenical, looking at specific aspects like signal processing, microphones and consoles, as well as broadening the field to include MI products. (As if there were a distinction anymore.)
The Parnellis also put a spotlight on individual people and companies. That's a characteristic they share with another awards program, one that's far less wide-ranging but equally earnest in lauding those who make the machine of production work.
The CMA Touring Awards, put on by the Country Music Association in Nashville, is both complementary to the broader Parnelli Awards and more tightly focused. Where the Parnellis cover the world, the CMA Touring Awards are more localized, but without becoming provincial. They recognize the road dogs of the business, including FOH and monitor engineers on country-music tours, as well as lighting directors, production managers, tour managers, truck drivers (very country), caterers and musicians. But they also include talent agents and talent buyers, publicists and artist managers — the kind of categories, what could be called the Deep State job titles of the industry, that might otherwise only get some attention in the back pages of Billboard now and then.
But that's what sets country touring apart, given how deeply enmeshed the road and record sales have historically been in country music, and Nashville. Country artists were relying on live shows for connection with their audiences and to pay the mortgage long before the mainstream music world figured out what to do when recorded music began to tank. It's what sets Nashville itself apart.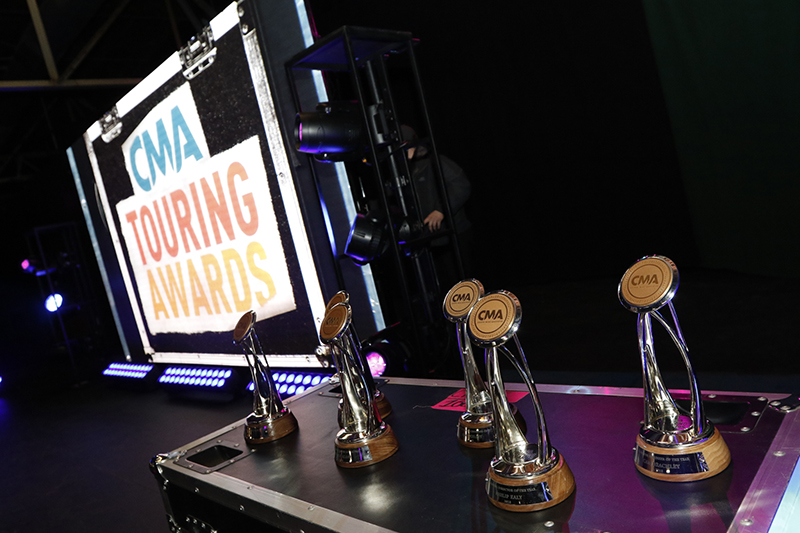 ‡‡         Tour Central
Now in the era of live music as the economic bulwark of the music business, Nashville has taken on new importance to the larger landscape of the entertainment industry. It's that central location where everyone converges ahead of the start of tours, because it's where all the mechanical bits and pieces, the nuts and bolts of touring are staged. This includes everything from rehearsal halls to sound reinforcement provider offices, equipment rentals and repairs, from massive video walls to lighting designs that can be seen from the Space Station to buses and the people to drive them. Nashville's become the one-stop shop for stepping off on tour for artists in every genre.
But when you peel back the increasingly sophisticated veneer of those services and resources, underneath is still a brothers-in-arms camaraderie reserved for country music, one that goes back to when four guys (and sometimes a girl) would pile into a 1957 Cadillac DeVille with a trailer hitch and start hitting the road houses and looking for the giant broadcast antennas along the highway that indicated a friendly radio station that would plug the next gig for them. It's a pocket full of dimes so they could call the agents and managers back in Nashville when trouble arose, at the least the issues they couldn't figure out and fix themselves. Why? Because out on the road in those days, you had to be able to fix a busted radiator hose and be able to extract the night's take from a club manager who thought maybe at 2 a.m. he had the upper hand.
That's the kind of heritage that was on display the night after NAMM ended, about 2,000 miles east of Anaheim, inside the Marathon Music Works, which looks perpetually unfinished, like a sturdily built backwoods barn, and which suits the vibe of the evening perfectly. Everyone knew each other, the video directors and the talent agents, the caterers and the publicists. They were all there. And as telling was who wasn't: the FOH and monitor mixers, the drivers, and the musicians, most of whom were out doing what the event was all about — touring. When winners were called out, they or their avatars were greeted by prerecorded videos, shot on cell phones earlier in the day, of the artists they are working with; in some cases, like Kirk Kelsey, named FOH Engineer of the Year, the audience saw a video of him being congratulated by Keith Urban himself, both of them on location together during sound check at the Brisbane Entertainment Centre in Australia.
But being on the other side of the world didn't diminish the connection to everyone in the room in Nashville that night. In fact, it seemed to deepen it. "There is a large focus on building a touring community and family in Nashville," Kelsey told me by email the day before. "I've experienced this with all the rock and pop tours I've done, but to a more [intense] degree in country music. Production-wise, there are no differences between country and other genres: Same audio, lighting, video, set designers and vendors as other styles of music. The thing that may be different are the fans. It's really like family."
Chris Rabold, who has worked with Lady Gaga, Bruno Mars, Beyoncé, Florence + the Machine and Norah Jones, and was nominated for his FOH work with Kenny Chesney, says this is his first experience with country music, and it was not what he had expected. "Country is a community that sees itself as special and separate in its own way, and that's really cool," he told me, calling from the road with Chesney, who never seems to stop touring (he literally appeared in every awards category that included an artist that night, wearing the same shirt). "I was kind of the outsider in this group — I've done lots of pop and rock, and even though I'm from Bowling Green [Kentucky], I was surrounded by country music but never really part of it. Now, it's become a kind of home of its own for me."
So as we recognize the work and accomplishments that everyone does to make the touring world the amazing engine it's become, Nashville wants to add one extra note of its own to that song. Hank would have approved.
Leave a Comment: