dBTechnologies VIO L212 Line Array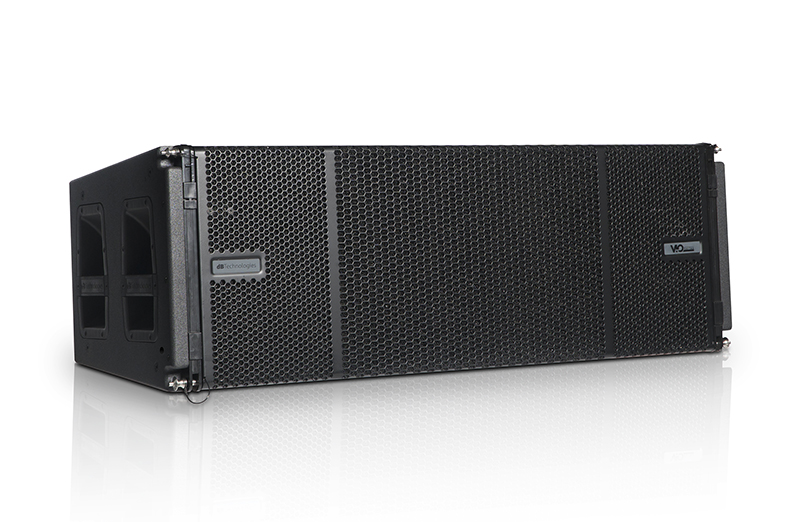 It's been coming for some time, so we shouldn't be too surprised, but the latest extension of dBTechnologies' successful VIO line array series finally made its U.S. debut out in the parking lot at this year's LDI show in Las Vegas, and it is poised to make some serious waves in the touring and installation markets.
The dBTechnologies brand is no newcomer in my book. About 10 years ago, I installed a pair of its midline Opera series powered subwoofers at Rhythmix Cultural Works, a local performing arts center in Alameda, CA, and these boxes have been running pretty much nonstop (nearly 24/7) ever since, without a hitch. Solid stuff.
Interestingly, it was also about that same time that dBTechnologies began intensely focusing on the pro audio market, first with the launch of its successful DVA series line array systems, and now with its new VIO series intended for large sound reinforcement applications.
‡‡         Enter the VIO Series
The VIO line is offered as the dual-8" L208, the dual-10" L210 and now, the flagship dual-12" L212 enclosures. All are active systems and share features such as all-wood cabinets; Digipro Class-D amplification, advanced DSP programming (with linear-phase FIR filters), remote control via RD-Net protocol with Aurora Net and an integrated rigging system. Despite the obvious size and configuration differences between the three systems — for example, the L212 is a 3-way design, while the L210 and L208 are 2-way systems. Yet, all share a common voicing and "sound," which simplifies combining the three boxes in a single system, say with L212's as mains, L210's as downfills and L208's serving as front fill duties.
Rounding out the line are three powered 18" subwoofers, the VIO S118, S218 and S318 — all flyable or ground-stackable, and equipped with neodymium woofers, alignment delay, cardioid-ready presets and onboard Digipro amplification. Additionally offered are the VIO "X" series with three powered, two-way, point-source systems (the VIO X10/X12/X15) which complement the rest of the series, whether used as standalone P.A., or as stage monitors, side fills or paired with one or more subs to form a high-output, ultraportable sound system.
‡‡         Inside the VIO L212
Designed for tours, festivals and large events, the large-format entry in the VIO series, the VIO L212 is a three-way active line array module featuring twin neodymium 12" woofers placed in a dipolar arrangement on the outside to provide an accurate transient response, as well as an extended and controlled low-end reproduction.
Mid frequencies are handled by a horn-loaded configuration in the center of the cabinet that evenly disperses the output of four 6.5" cone neodymium drivers. High frequencies are delivered by two 1.4-inch exit neodymium compression drivers mounted on a waveguide that contributes to a cylindrical wavefront that maximizes HF directivity control, intelligibility and throw capabilities. Horizontal dispersion is stated as 90-degrees, with a useable overall frequency response of 55 Hz to 18.6k Hz (-6 dB). Dimensions (WxHxD) are 43.31 by 15 by 17.72-inches, and a single VIO L212 weighs in at just under 120 pounds.
‡‡         Power… and More
Each VIO L212 is driven by two Digipro G4 1,600W Class-D amplifiers, providing a total of 3,200W RMS. The worldwide power supply operates at any voltage from 100V to 240V (50/60Hz) and automatically switch off in case of an undesired strike of 380V current. An IPOS (Intelligent Power-On Sequence) feature controls the sequence in which the main power supplies of all units within an array ramp up. Therefore, each module powers up at a slightly time, thus reducing the overall system's inrush current, even in large P.A. system deployments.
An advanced pre-amplifier design lets users run system-test on electronics and transducers before and after use and a real-time impedance control. Additionally, the preamplifier's floating audio input design grants a digital optical isolation between earth ground from the mains and the audio ground flowing into the preamplifier board. This galvanic isolation greatly improves resistance to interferences and any unwanted buzzing and noises. Also standard is a USB port that allows firmware upgrades and diagnostics analysis.
The pre-amplifier is equipped with a modular slot for expansion cards. As a default, VIO L212 is equipped with dBTechnologies RD-Net card, for real-time remote control via Aurora Net software. The preamplifier is also ready for future upgrades with Audinate's Dante AoIP protocol. To assist users in this configuration, VIO L212 has built-in Near Field Communication (NFC) proximity sensors, which are used to determine the position of each box within an array. This technology, together with a high-brightness LED bulb on the front of the enclosure, contributes to help users recognize, identify and match each box's physical position on the Aurora Net remote control software.
‡‡         Ready, Steady, Go!
Just a few weeks before the official USA launch of the VIO L212, a full rig had been permanently installed as the main system of Atlantico Live!, a famous and popular concert space in Rome that has always been a destination for entertainment and live music.
This large and multi-functional venue has a total capacity of 3,000, with the complex built on two different levels offering a dynamic and versatile place to host events and performances. Among the international artists who have performed there include Steve Vai, Mika, Litfiba, Mumford and Sons, Limp Bizkit and Bob Dylan.
The performers to inaugurate the new VIO system at Atlantico Live! included recent shows in late October by Spandau Ballet, The John Butler Trio, Luca Carboni and Timmy Trumpet. At the end of this first (and intensive) music week, the staff that helped manage, evaluate and supervise the acoustic performance were impressed.
The system includes left/right hangs (each with nine VIO L212s) on either side of the stage, along with 16 ground-stacked VIO S218 subwoofers lining the stage front and used in cardioid mode. VIO L208 enclosures are deployed as front fills.
Antimo Acciardo of Amplificando Live, the sound service manager of the venue, expressed total support of the VIO system. "There are many reasons that led us to make this choice for one of the most desirable venues in the area. The VIO L212 performance reflected our parameters and it is positioned in line with some of the most competitive products that the professional audio market offers today."
The characteristics and potential of VIO L212 had already emerged during a first listening phase at the Fabbrica Festival in Rome. Acciardo notes, "Our initial interest in VIO was confirmed with a demo at dBTechologies' headquarters and subsequent listening tests at the Atlantico Live! in Rome."
Some of the reasons that determined the choice of the system were also some strengths that distinguish dBTechnologies, which — according to Acciardo — include professionalism and excellent field support, "which represents security for us, knowing we have a world-class team behind us if we need them."
Acciardo continued with an optimistic wish for the future, "We are excited about this collaboration with dBTechnologies and look forward to great things in the future."
For more information about VIO, visit www.dbtechnologies.com.
Leave a Comment: